CATCALL: A NEW ERA


If you've been following our brand for a while you may have noticed a few changes around here. This time last year, after 3 years of designing graphic tees I got stuck in a rut. I was completely uninspired and quite frankly, ready to shut up shop. But after taking a step back and some time to breathe, I found a new sense of purpose and direction when it comes to CATCALL.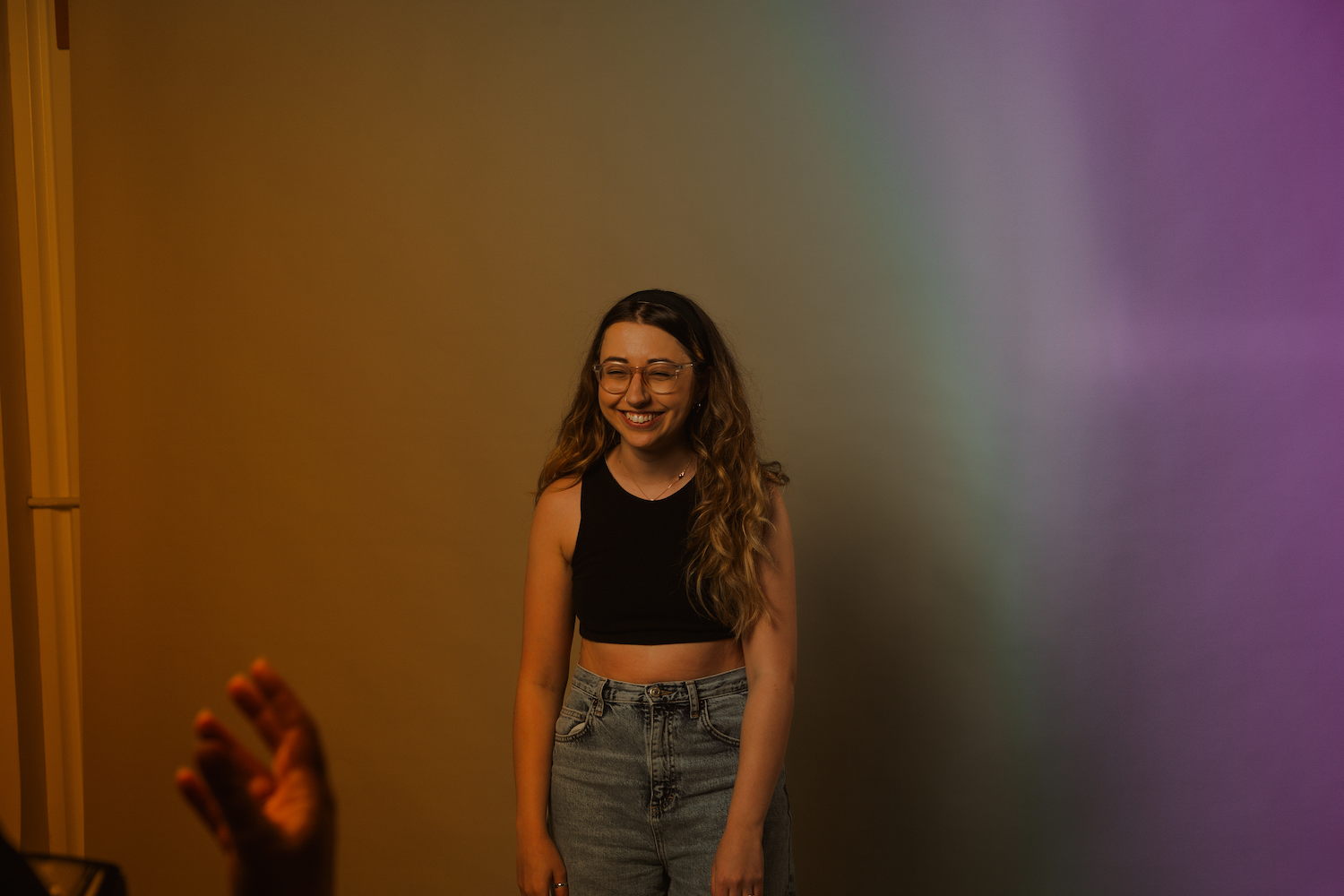 Being a twenty something girl in my very twenty something apartment, I discovered that my shopping habit had its limitations and the limit was in fact the dimensions of my wardrobe. Turns out my IKEA flat pack didn't come with the Narnia extension and the clothing rail does in fact have a weight limit. Although I did consider going all Carrie Bradshaw and storing my sweaters in the stove, I lusted after a more suitable solution. Sure, I could've just bought less clothes but where's the fun in that? Or maybe have a clear out? Well, since I'm still bitterly hurt about giving away my black Adidas Sambas many years ago that every single Pinterest girl now wears to taunt me, that didn't seem feasible either.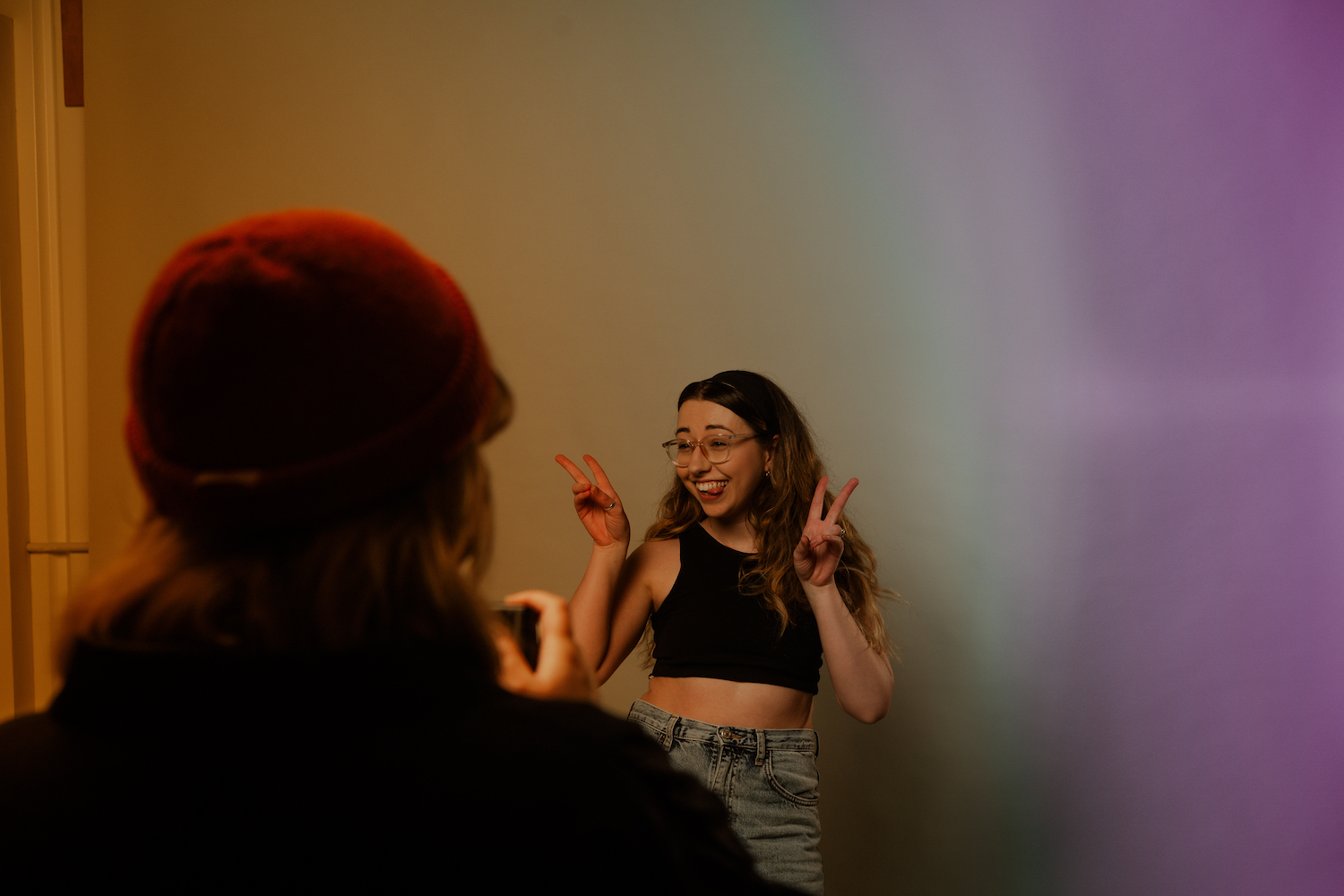 But whilst doom scrolling TikTok for the 14th hour in a week, I discovered the perfect solution. A simple sewing pattern, no more than a few sheets of A4, for a top. But not just any old basic top. A REVERSIBLE top. I could now double my wardrobe for the same amount of space. GENIUS.
And from there, a new era of CATCALL was born. Although we are once again in our infancy, it feels so refreshing to be in one way starting over. From here on out, all of our new products will serve multipurposes. Whether it be reversible allowing you to switch up from basic to patterned in an instant or even a multitude of styles in just one product. Welcome to the new era of CATCALL, you're gonna love it.

BARBIE: A FASHION ICON


Hi Barbie! If you've been anywhere other than under a rock these past 3 months you'll know that Barbie is BACK. Much like every little girl in the 90s, I had a Barbie obsession. Whether she was Dentist Barbie, Veterinary Barbie, hell, even Pregnant Barbie, I wanted to be her. But also like most little girls, I turned my back on her for my preteen tomboy phase only to come full circle back to her in my 20s. She's truly been there for me through it all. She showed girls everywhere that they could be whoever they want to be and have their very own Barbie dream house to be it in. However, not only is she a feminist icon but a fashion one as well.
So to celebrate Barbara's big comeback, let's break down some of her best looks.
1959 The First Barbie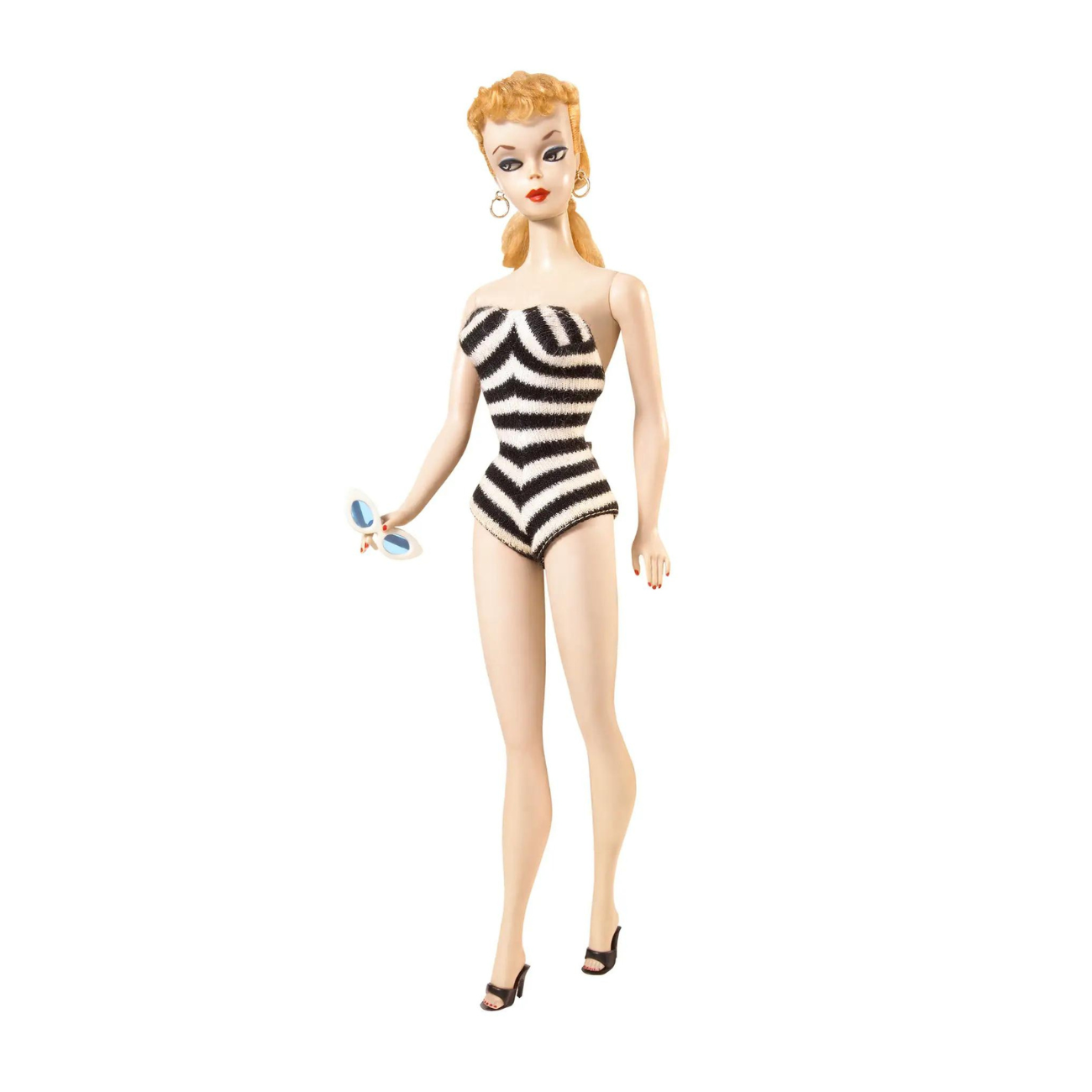 You can't talk about Barbie without bringing up her iconic first look. The monochrome swimsuit is simplicity at its best but also represented the cool chic California style of Miss Barbara. Although this colour way is not often associated with the Mattel brand, the feminine cut silhouette is the blueprint of Barbie fashion.
2014 Entrepreneur Barbie


Now I must admit this isn't my favourite Babs look but of course, it's my favourite career. Entrepreneur Barbie, released in 2014, opened up a whole new career option for little girls. Who knows, maybe if this Barbie had showed up 20 years earlier I would've started CATCALL back in the year 2000. Her black and pink matching get up is the perfect combo for a female boss and of course, her matching analytics charts are a must.
1973 Surgeon Barbie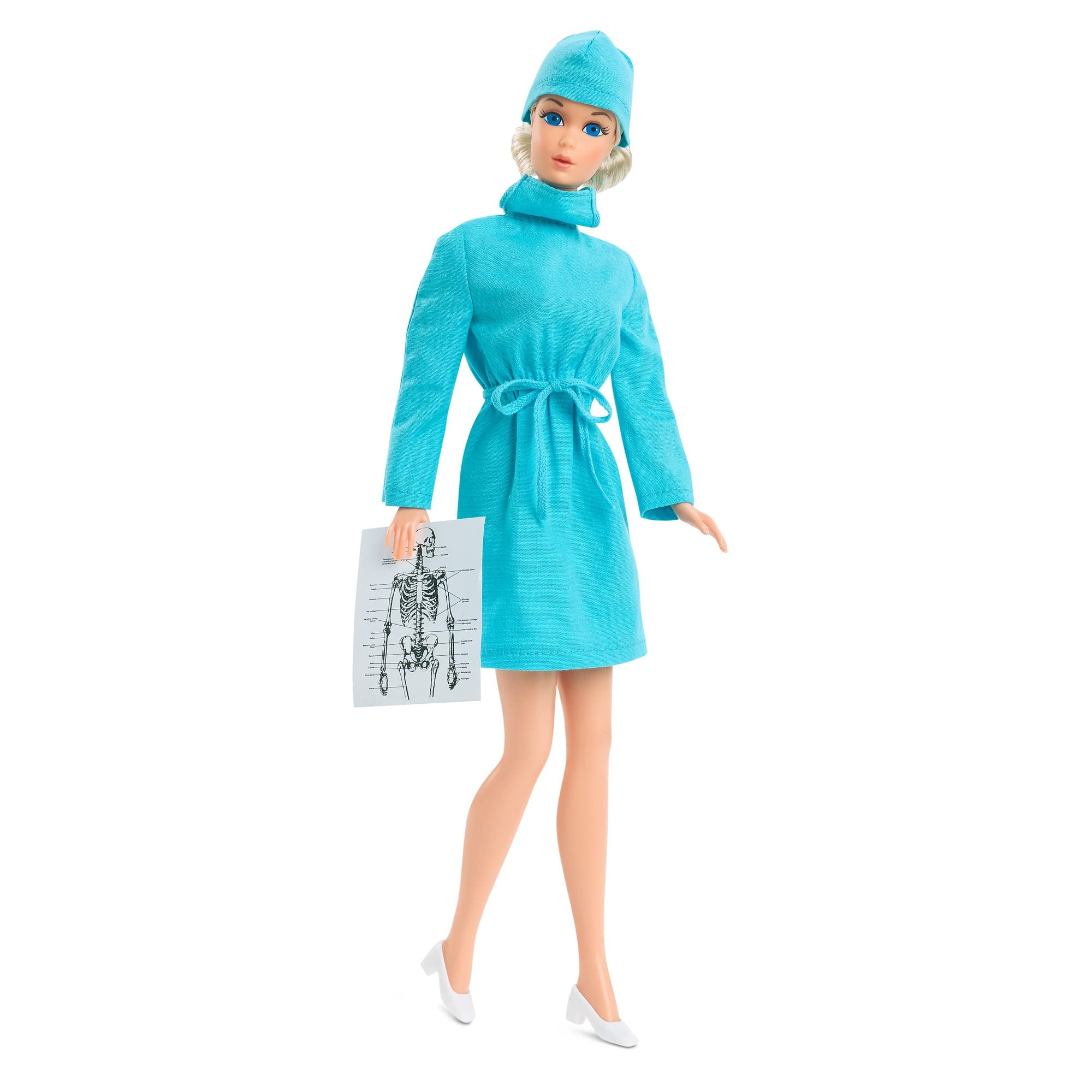 Now this career Barbie is a true icon. At the time of her release, only a maximum of 5 women per year were accepted to the American College of Surgeons. So to see her dawning her teal blue scrub gear when only 5% of surgeons were female makes this Barbie a front runner. Although not the most fashionable outfit, I love how Mattel kept her uniform true to form. I mean they say healthcare staff should be bare below the elbow but did they say anything about being bare below the knee?
1977 Superstar Barbie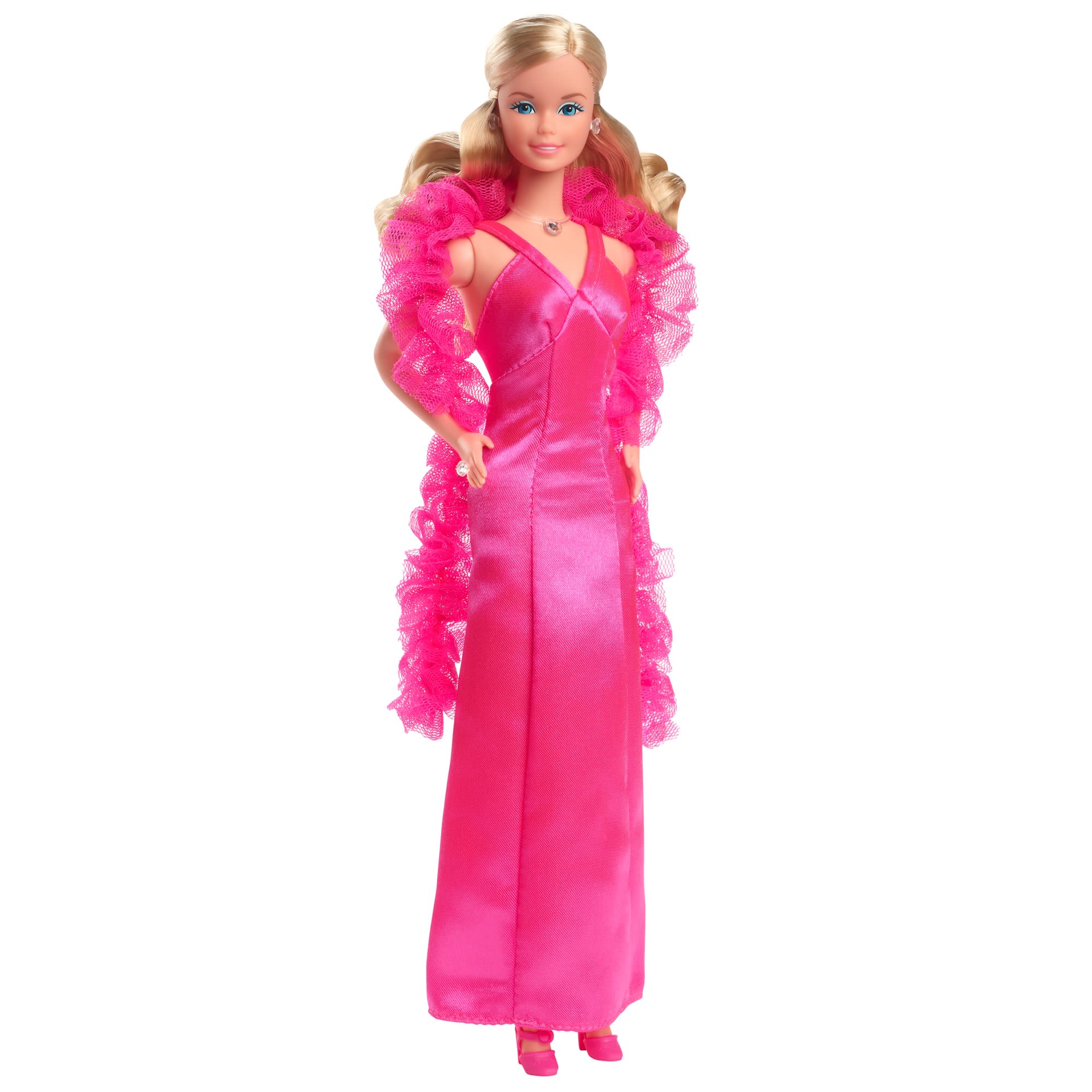 Finally, what we all came for, a
Barbie pink
outfit. Although forever pushing the boundaries of the female stereotype, there's one thing Barbie is synonymous with and that is that bright, beautiful, trademarked pink. This all matching, all fluorescent, all PINK outfit truly encompasses the bubblegum Barbie we have become accustomed to.
1980 Black Barbie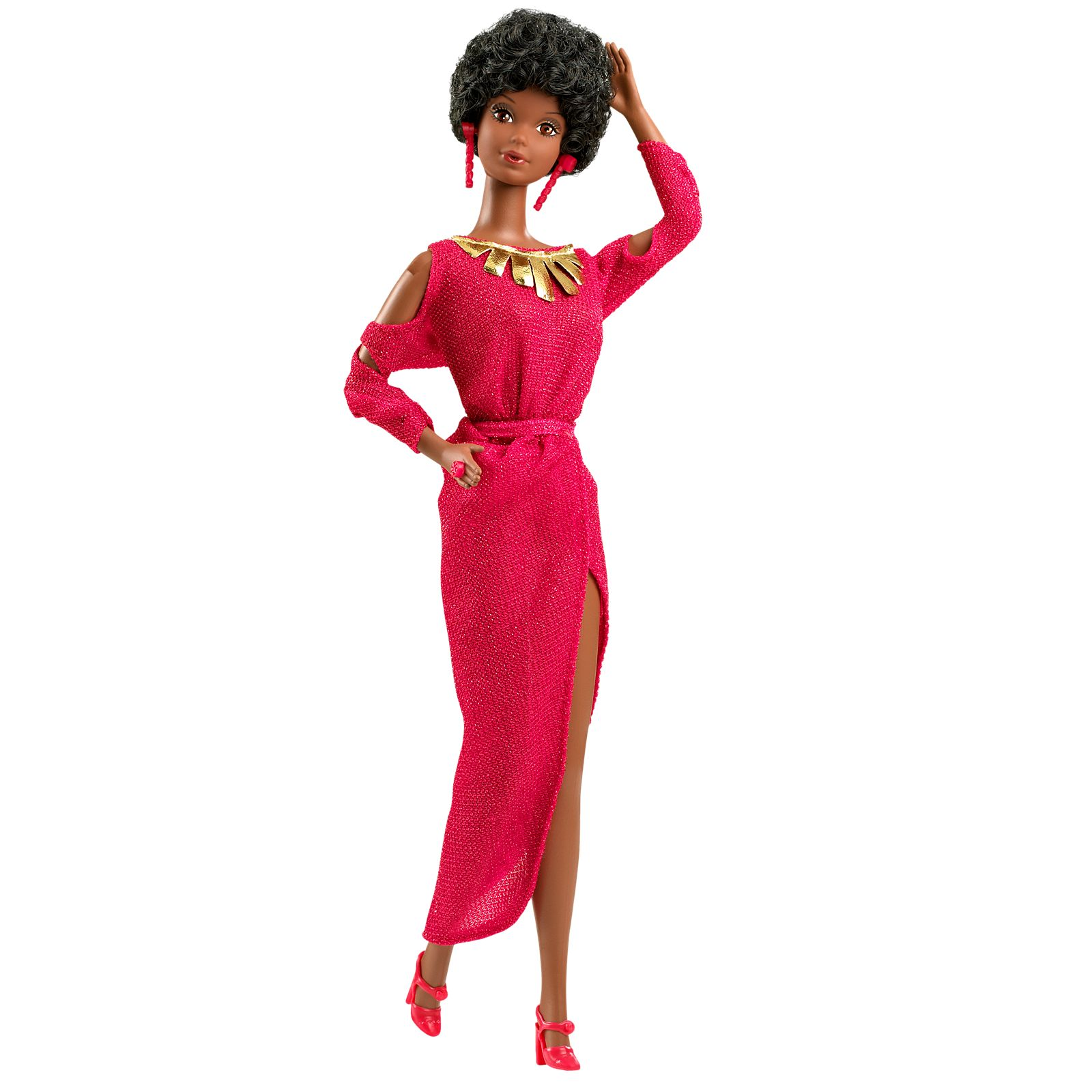 It seems mad in the modern world that it wasn't until 1980 that the first African American Barbie was released but she was worth the wait. Although 1968 saw the introduction of Barbie's friend Christie, it wasn't until this Barbs came to market that the main character got to be a doll of colour. This representation was radical for the doll market but much needed. I mean, if Barbie can be anything then she most certainly doesn't have to be white.
Modelled on pop icon Diana Ross, this chic red number was the perfect intro for this Barbie. Her bold statement jewellery perfectly accentuates the slit shoulder dress which is a staple of its time.
1980 Golden Dream Barbie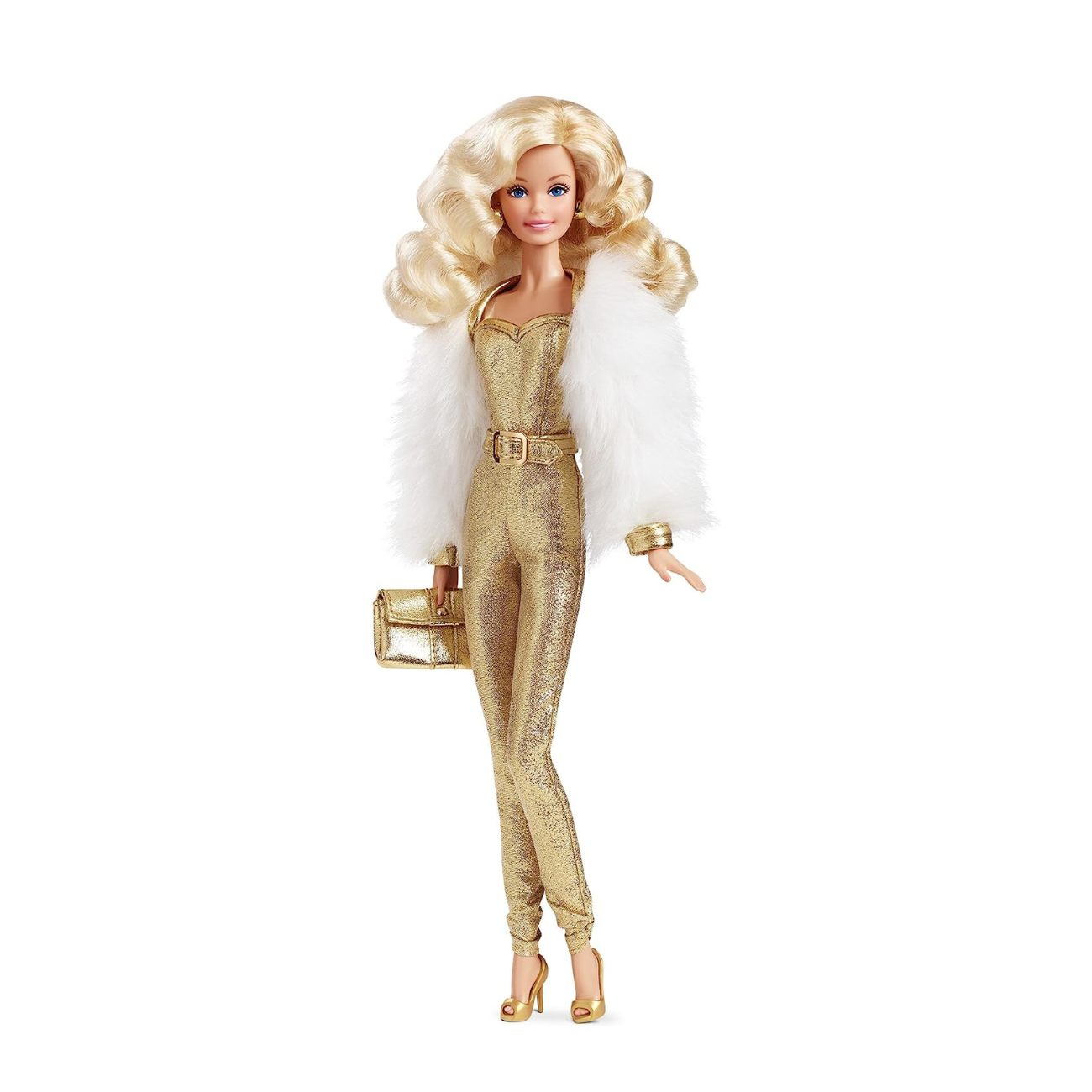 All that glitters is not gold, unless you're in Barbieland of course. This glittering, golden 80s jump-suit is an iconic outfit for Barbara. Although previously the majority of Barbie evening wear was made up of dresses and skirts, the jumpsuit starts to show the modernisation of Barbie's style. This fitted, glamorous number shows a different monochromatic colour palette, swapping out the multitudes of pink for rich and sparkling golds.
1995 Enchanted Evening Barbie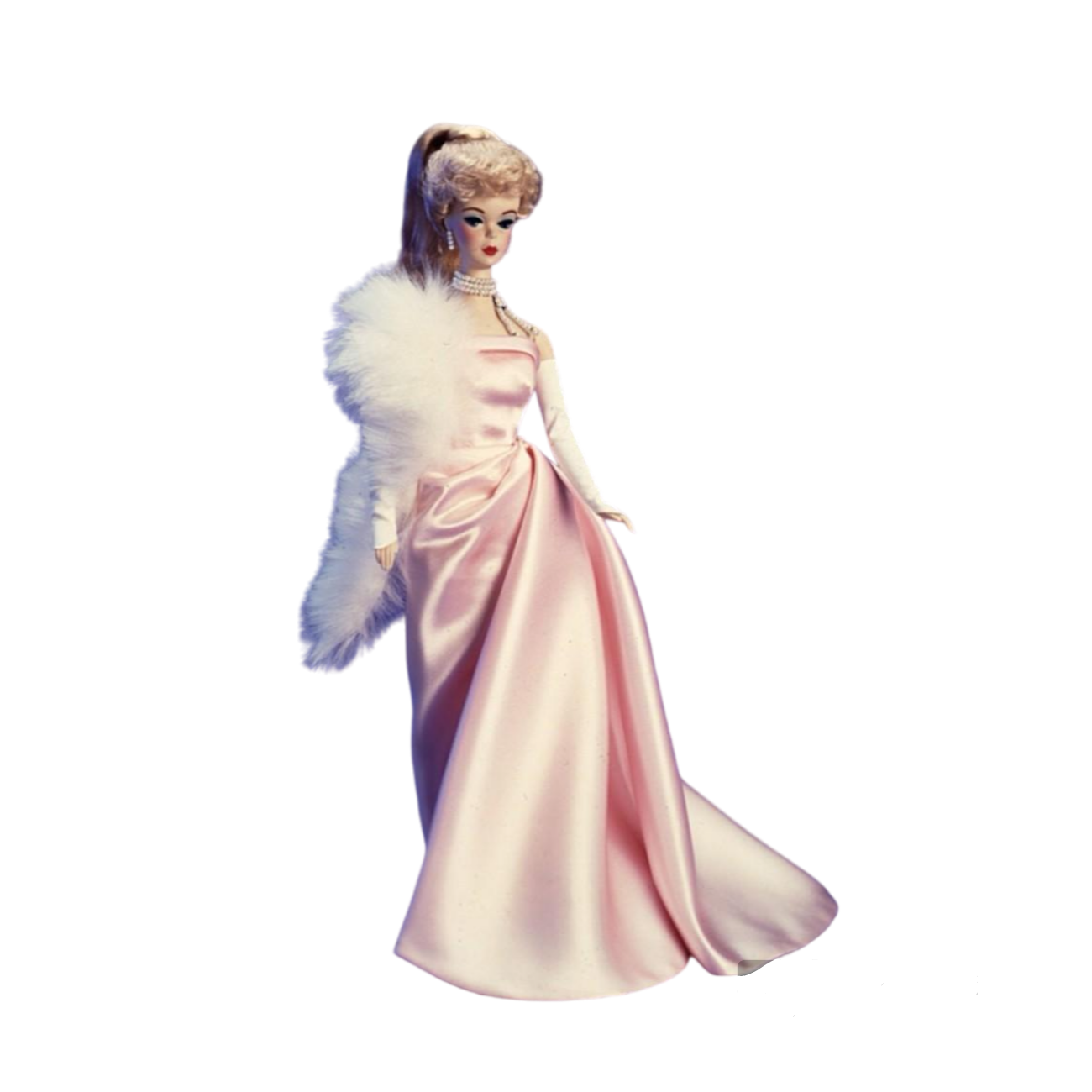 Where was this Barbie when I was picking out my prom dress? This sleek pink satin number is true elegance. The simple use of draping adds shape by reflecting the light to make a more dynamic dress. Pairing it with a faux fur shrug (Barbie is an animal lover of course) is the perfect accessory to make an already gorgeous number even more glamourous. Plus swapping out her iconic and patented Barbie pink for this pale pink tones down the gown perfectly.
2003 Producer Barbie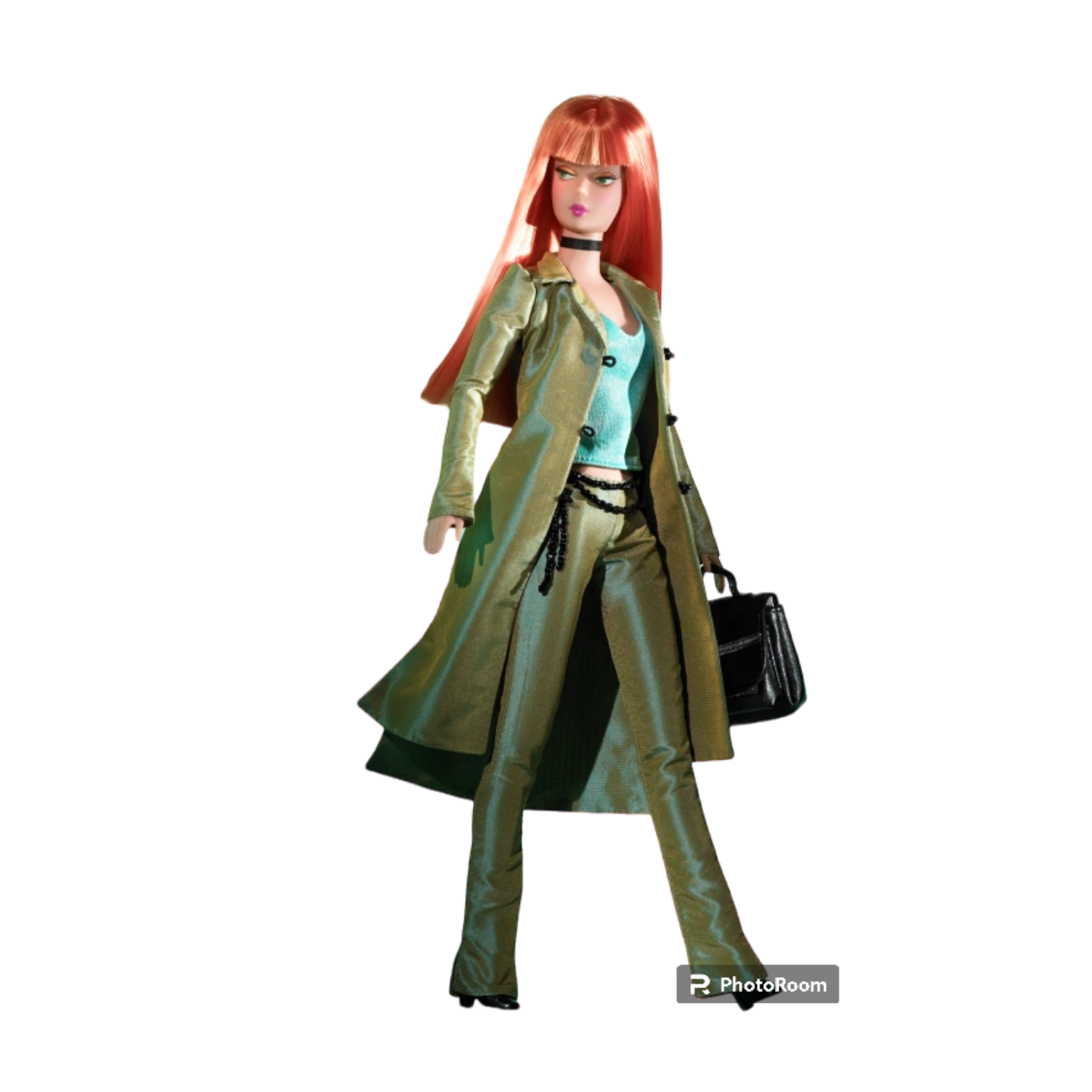 If there was ever a Barbie to represent 00s fashion, it's Producer Barbie. Her edgy green co-ord gives her boss energy whilst looking effortlessly cool. Known mainly for her unique redhead blunt cut accompanied by a sassy side eye, she is the epitome of power. Plus the whole look is rounded off by the 00s staple piece which had us all quite literally in a chokehold, the choker necklace. Perfection.
2003 Kate Spade Barbie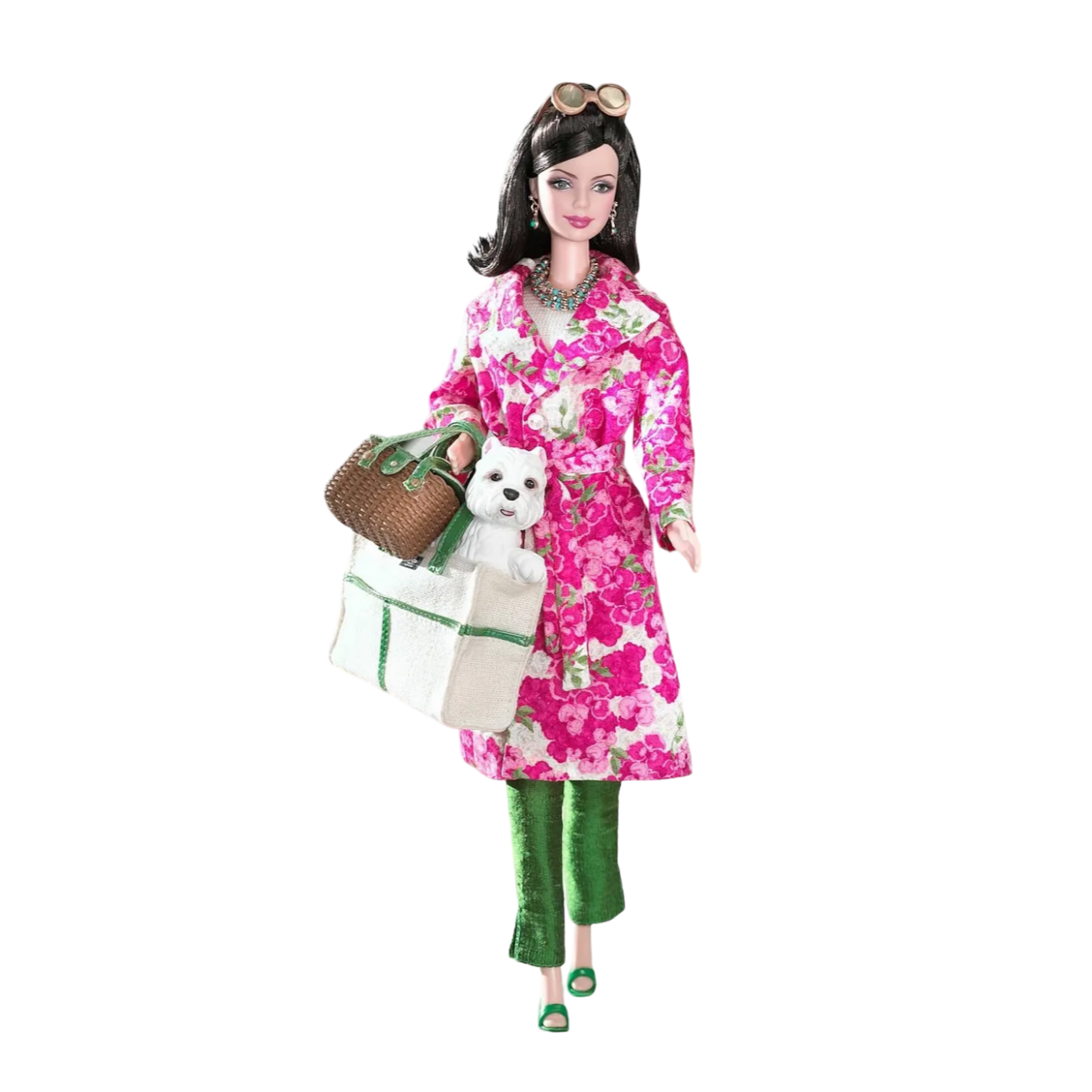 Being immortalised as a Barbie doll is the highest accolade for any celeb, but even more so for a fashion designer. Kate Spade got the honour back in 2003 and it's safe to say Mattel absolutely nailed it. Dressed head to toe in her namesake, Kate Spade Barbie is the New York City it girl. Her floral trench is superbly paired with green cigarette pants and a mini picnic basket bag. This Barbie was destined for shopping on 5th Avenue and walking her Westie pup through Central Park, a true Park Avenue Princess.
1961 Solo in the Spotlight Barbie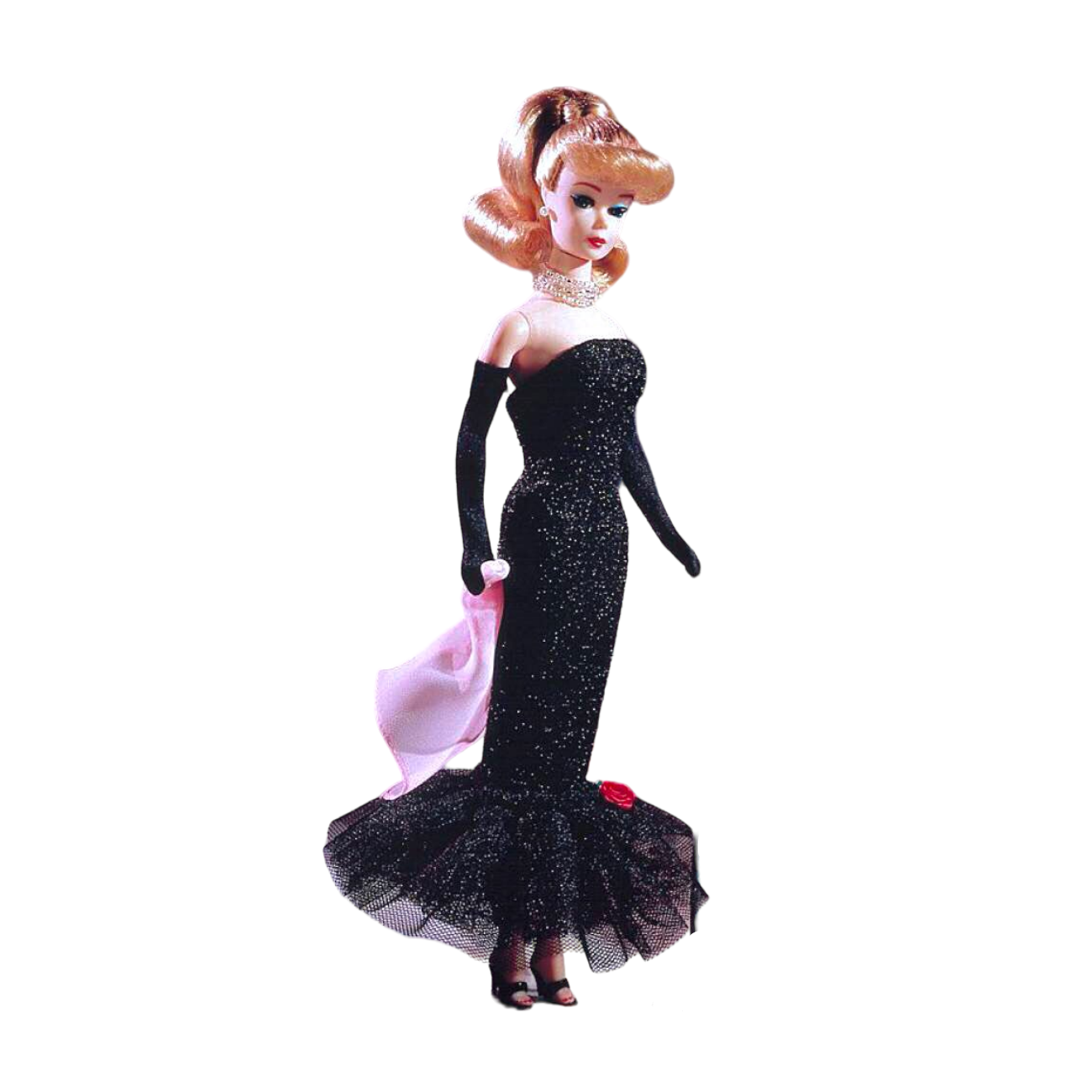 Luxury is this Barbie's middle name. The full length black glimmering fishtail evening gown is simply stunning and the subtle pink handkerchief detail is the perfect nod to Barbie's true brand. The full length gloves and extravagant pearl necklace elevate this look even further to give a truly luxurious doll.
2023 Barbie the Movie Barbie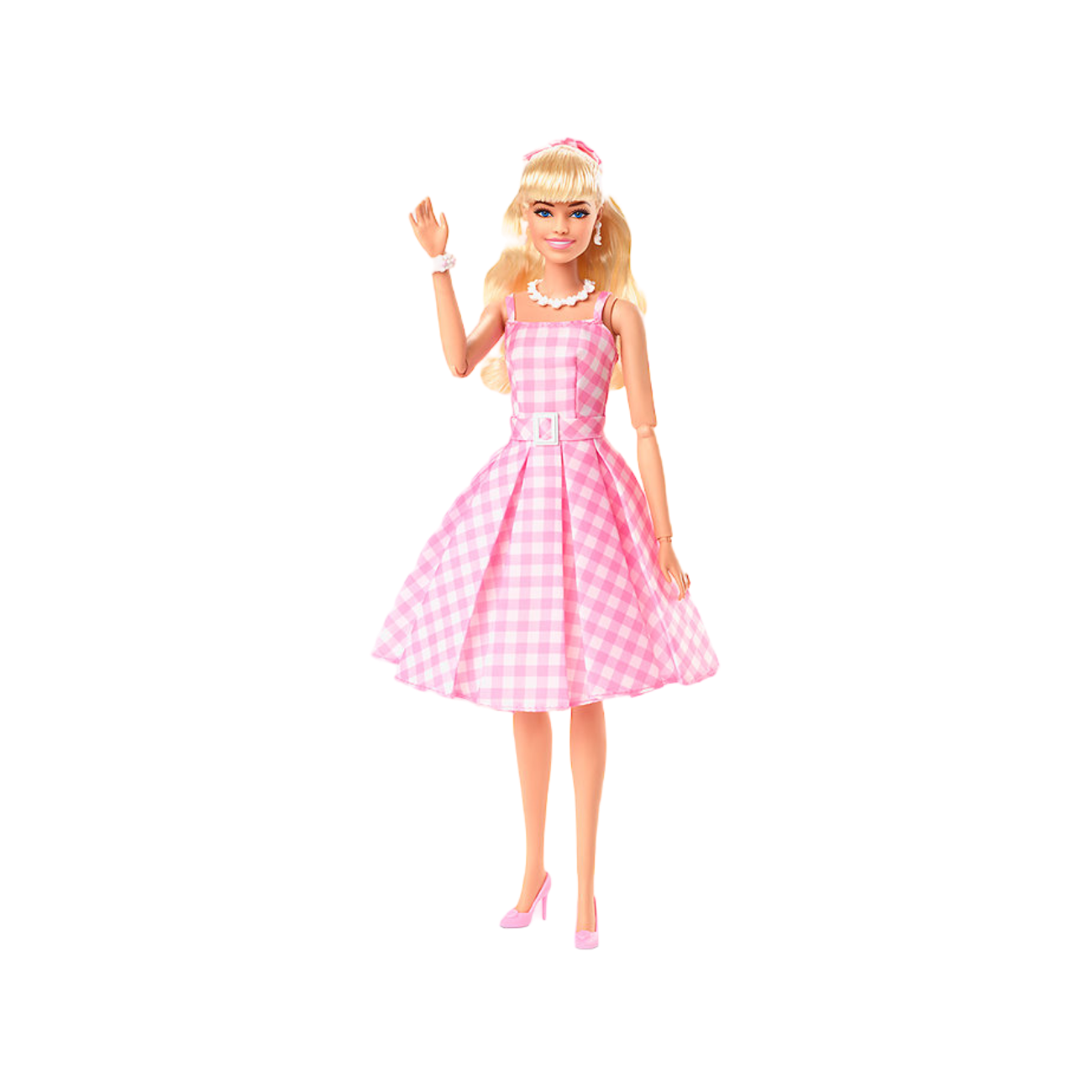 Just when I thought Barbie's outfits couldn't get any more fabulous. Now the actual Barbie Movie Barbie has an endless number of exceptional looks but this one has to be my favourite. The sweet and dainty gingham print accentuates the playfulness and femininity of Barbie that we've all grown to know and love. The ubiquitous 1950s cut and style is also representative of Barbie's origin, making this outfit a full circle moment.
1983 Loving You Barbie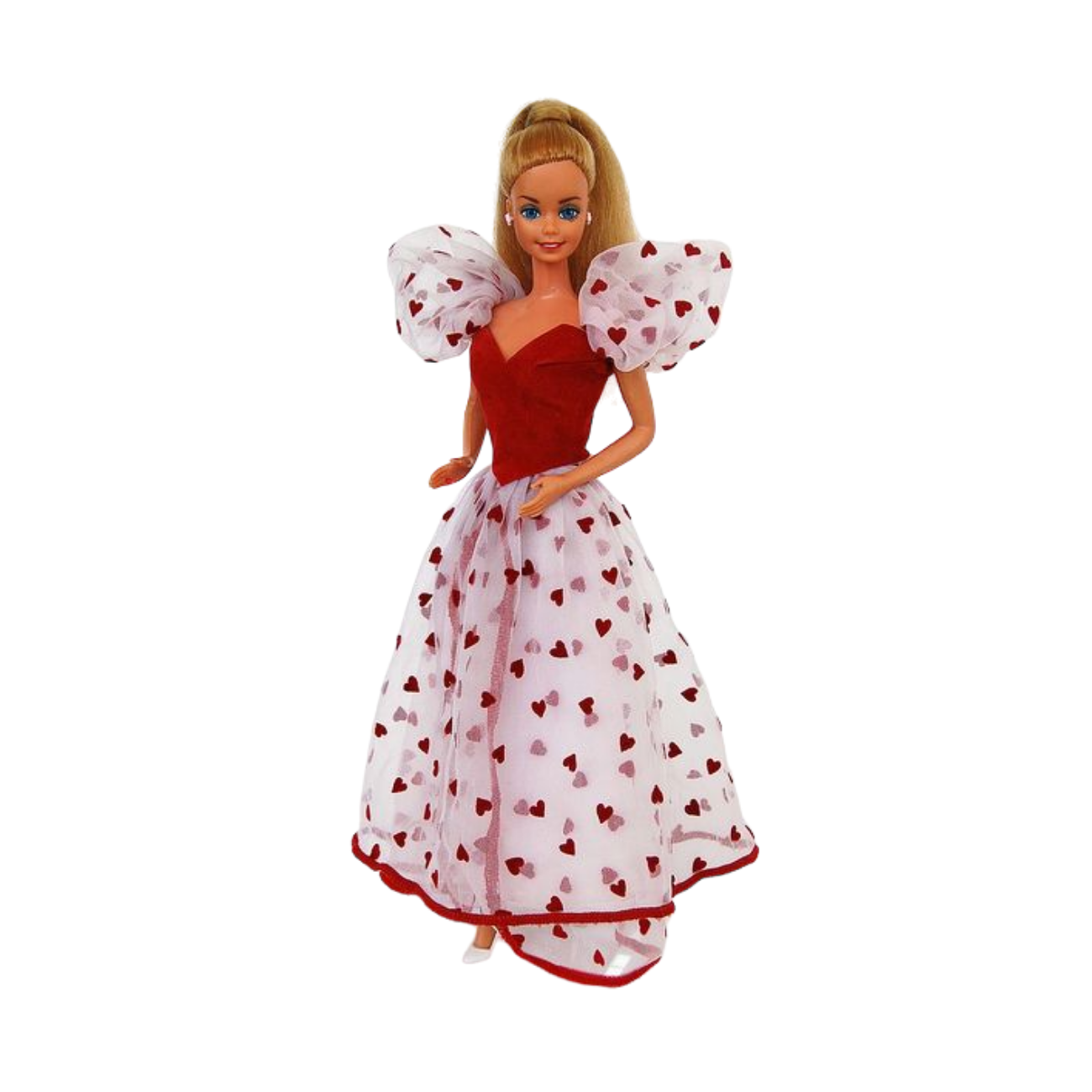 Now, my all time favourite Barbie outfit is a little out there I know. But for me, its uniqueness is what makes it a winner. The Loving You Barbie not only totally encapsulates 80s fashion with endless tulle and oversized puffy shoulders but the use of the miniature heart details gives her a distinctive look like no other doll. Plus, the use of the sweetheart neckline pulls this look together seamlessly.
So there you have it, who'd have thought a little plastic doll would become one of the greatest fashion icons of all time. Sixty years of superb outfits and hopefully many more to come. Head to our
IG
to let us know your favourite Barbie outfits.


PS. Sign up to our mailing list for an exclusive Barbie surprise...


GLASTONBURY 2023: THE FESTIVAL OF FASHION
Going to Glastonbury is very much like starting yoga or going plant based, you just can't help but tell everyone about it. Although I could talk about it until the end of time, I promise this will be my last act (until next year
obvs
). As a first time goer after a decade of disappointment, I know as much as anyone the pain of not being able to go to the glorious Worthy Farm. So I'll make this little snippet of my wonderful week there both short and sweet. Glastonbury festival is famed for its large green fields, hippie ethos and vast creativity but there's only one aspect I'm going to shout about: THE FASHION.
I'm in awe of women most days of the week but when I tell you my jaw dropped at some of the fashionistas rocking up to the not-so-little Somerset farm. No matter where you looked there was the most fantastic looks of all different kinds, colours and textures. From people in comfy causal camping wear to beaded sequinned hardly there's, everywhere I looked I was inspired. As a shamefully infrequent festival goer, I was very unsure of myself and what to pack. Plus, as a fashion brand owner, I felt the pressure to pack all my latest looks and be at my best. However, a crate of warm beers and 27 degree heat later, that sharp went out the window. The makeup bag was shoved to the bottom of my rucksack and I chucked on whatever was bearable in the heat. Although my beloved REVERSIBLE CROP TOP was a must have space saver in my rucksack and provided some versatility in my outfits, that was about as adventurous and glamorous as it got from me. But thankfully, the girlies came through on my behalf. Everywhere I looked I was inspired by the amazing display of fashion and you can see some of my darling favourites over at our INSTAGRAM.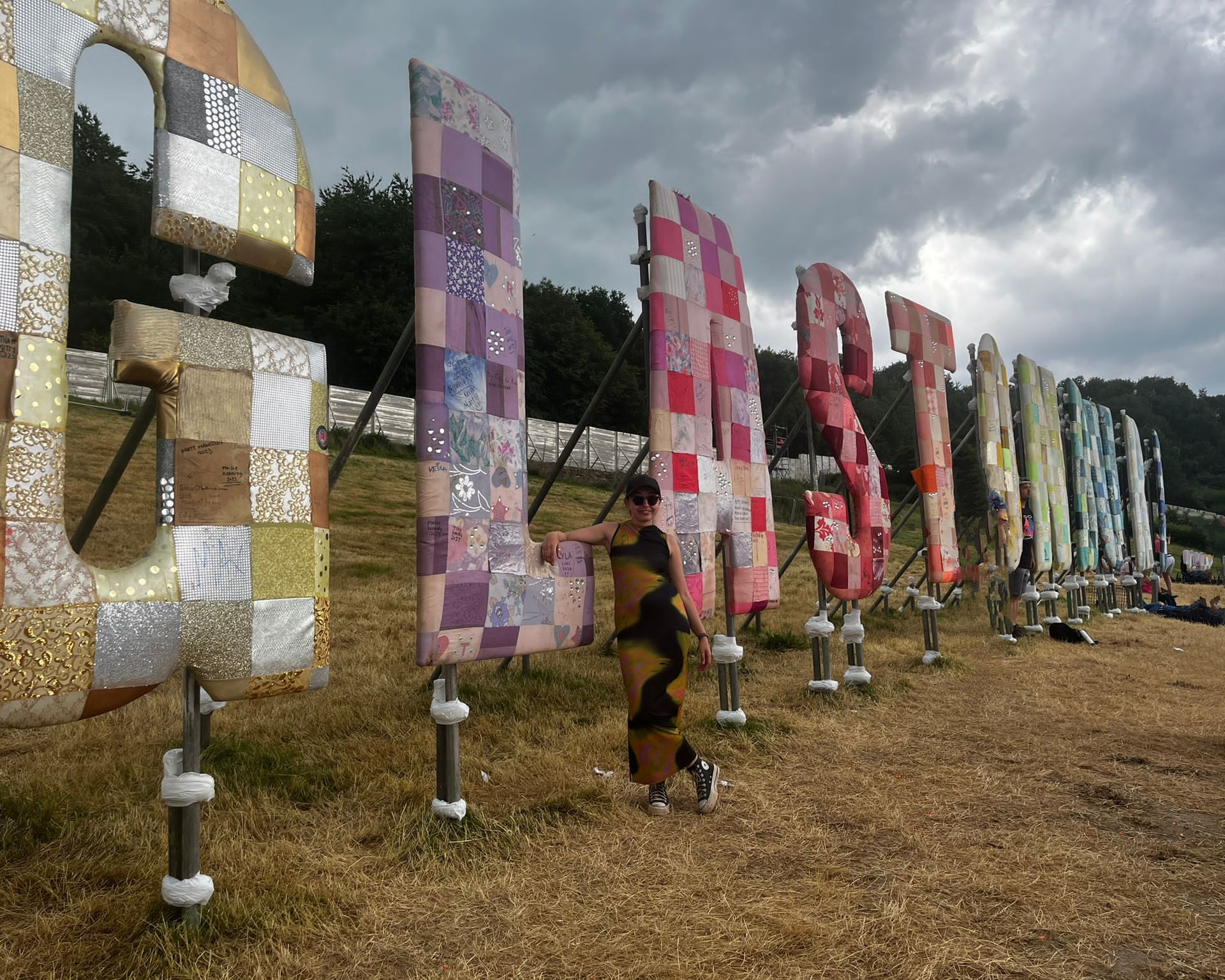 But it wasn't just the guests that had me in awe, of course the acts did as well. A personal favourite of mine was not only one but TWO outfit changes from my darling Lizzo. Although she didn't drag Harry Styles out from tour like I dreamed of, she still didn't disappoint. From a black leather cat suit (in near 30 degree heat!) to the teeniest tiniest handbag that most certainly won't fit a flute to finally the most jaw dropping stunningly beautiful gold number. Perfection as always.
Better still, Lizzo wasn't the only one who managed a show stopping outfit change, Lil Nas X showed that the fashion game ain't just for the gals. Except his choices left a little less to be desired. But the true winner of the weekened was none other than pop princess Sophie Ellis Bexter. Her lamé-esque number bejewelled by Lady Jayne's was enough to make anyone with eyes have them pop straight out of their heads.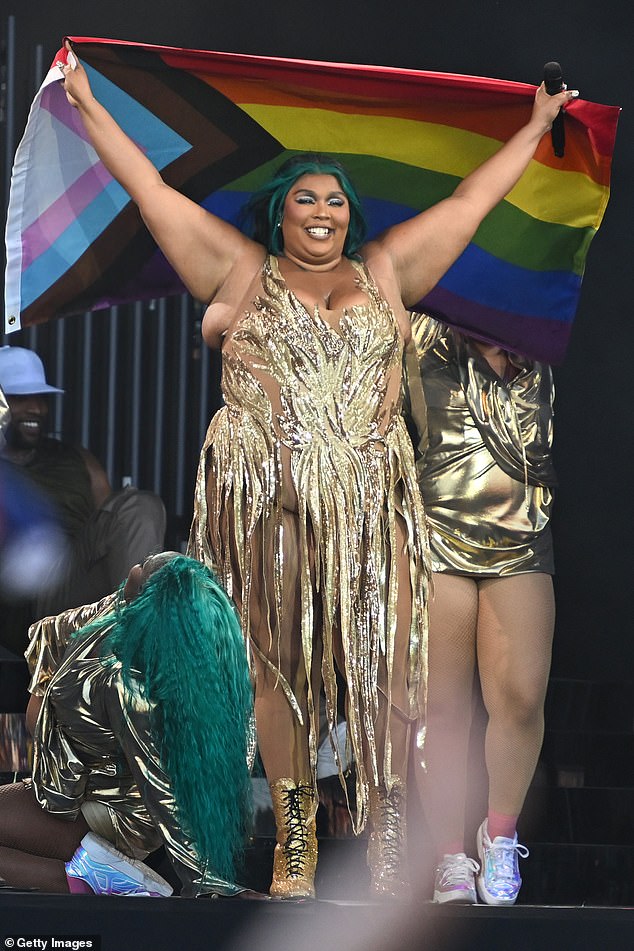 Which leads me to an amazing highlight from my whole festival of fun and frolicking, that sweet, sweet small business shopping. Glastonbury festival is host to a whole array of small businesses that have to strive for their pitch in the field and as a small business owner, it's no surprise that I was obsessed with all the fashion stalls showcasing their hard and sparkling work. I could have quite easily spent five days just perusing the endless sequinned goodies. Alas, I held myself back. Although I must admit I couldn't quite resist trying on the very body suit that adorned Sophie Ellis Bexter on the Pyramid Stage...worth it. Had I seen one drop of rain, which Lord knows I prayed for, I would have ran my little Hunter wellies so fast to Kuccia for one of their amazing metallic spaceman style raincoats. Which would've paired perfectly with sequin mermaid fantasy dresses from Winifred Rose Clothing that I eyed up quite literally every day.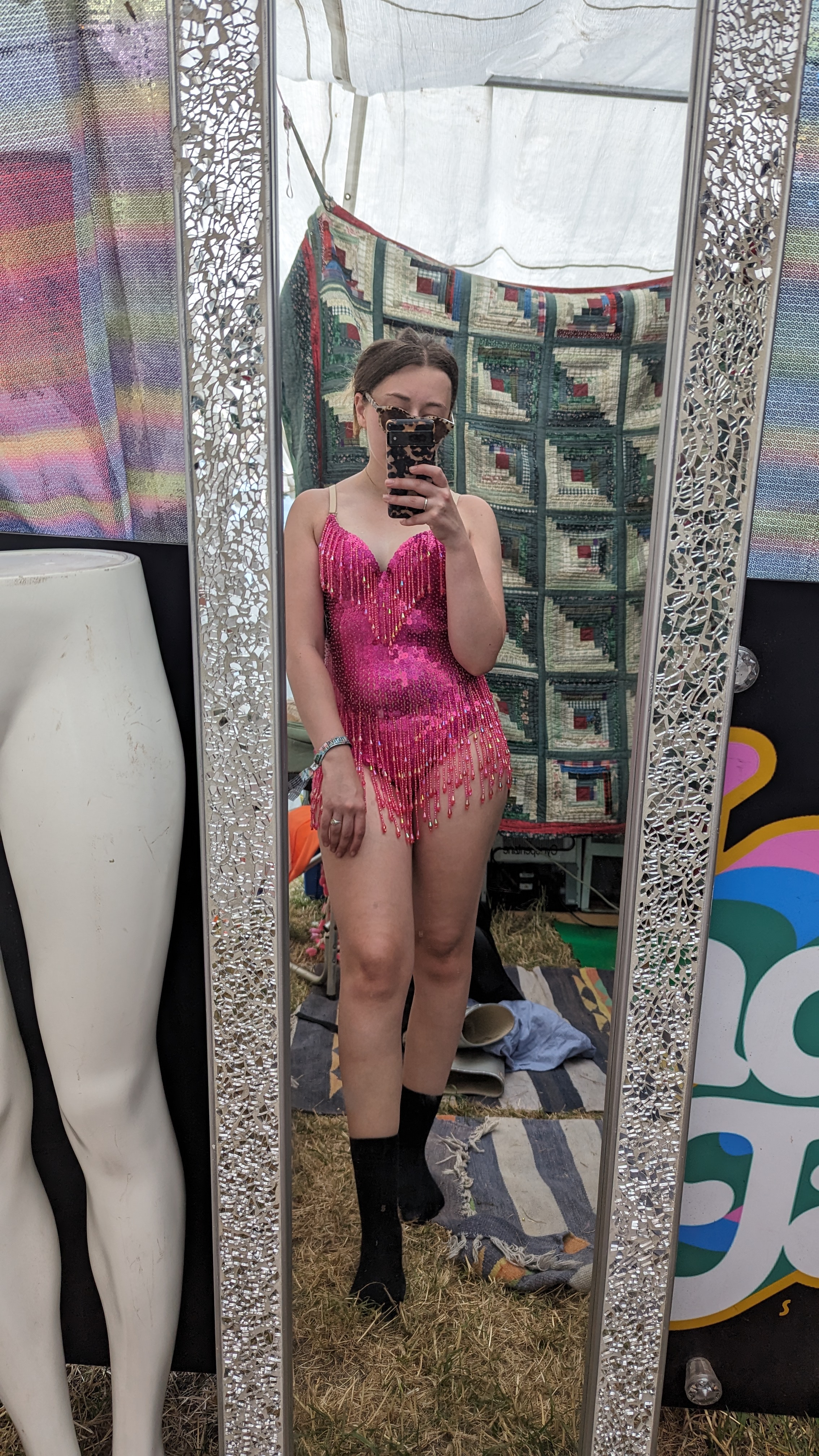 Glastonbury 2023 truly showcased some of the best festival fashion of the year but now it's time to deflate the air bed, dust off the biodegradable glitter and go back to grey, grim reality.

See you in the fields.


FRANCIS BOURGEOIS X THE NORTH FACE X GUCCI

If you have been
anywhere
near Tiktok in the last 6 months you'll be familiar with Francis Bourgeois. The trainspotter turned social media sensation has captured the nations hearts and even the eye of fashion moguls. Recently Bourgeois became the star of the latest The North Face X Gucci campaign and has paved the way for the eccentric. Having started his career by posting Tiktoks of his passion for trains during lockdown he's come a long way as a young lad from Harlesdon.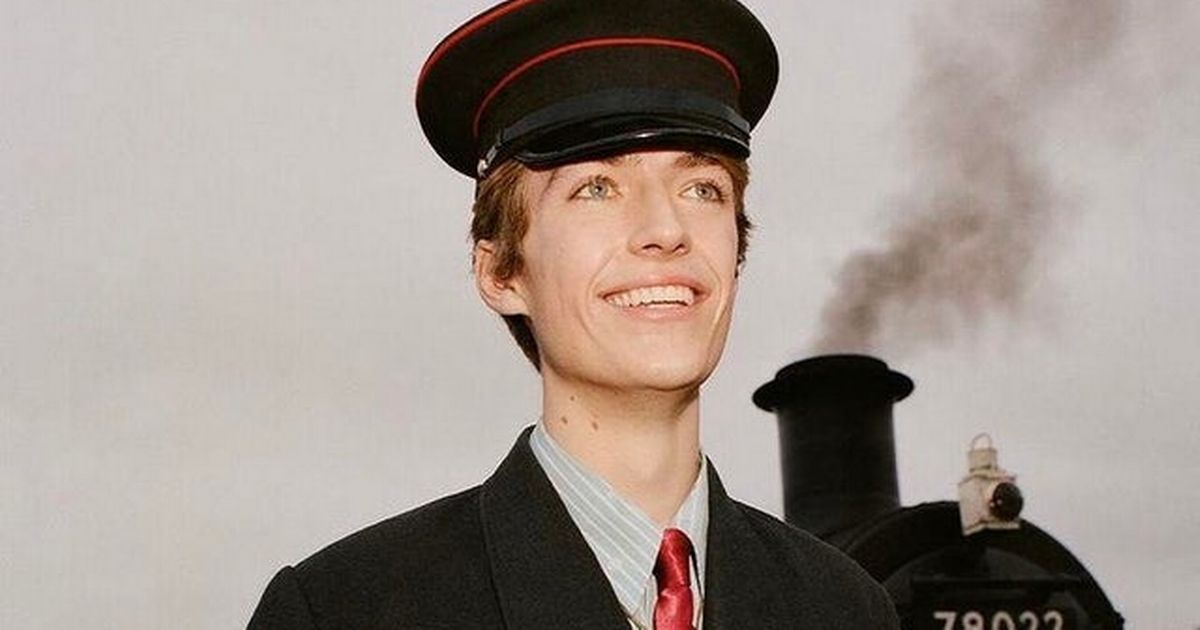 The ad shows a chaotic alpine train station with bustling fashionistas wearing the latest collection with none other than Bourgeois as the train conductor. The cool new wave French cinema tones are a beautiful backdrop to an even more beautiful fashion drop. The collection includes durable overalls and ski friendly knitwear, promoting the outdoors and adventures. The combination of the classics from both brands is the true beauty of this collection. Gucci jacquard print incorporated into The North Face puffer jackets is the perfect way to merge the brands and make the outdoors fashionable. At first glance, the collab seems to be more favoured towards The North Face, particularly because of the inspiration being the drive for getting out in nature but Gucci has some classic moments in there too. The silk dresses are unequivocally Gucci
(including the price tag unfortunately)
with beautiful bold floral patterns and a strong green colour story. Yet this still intertwines with The North Face beautifully with a nod to the beauty of nature. Plus it is by the far the most chic aprés-ski outfit I have ever seen.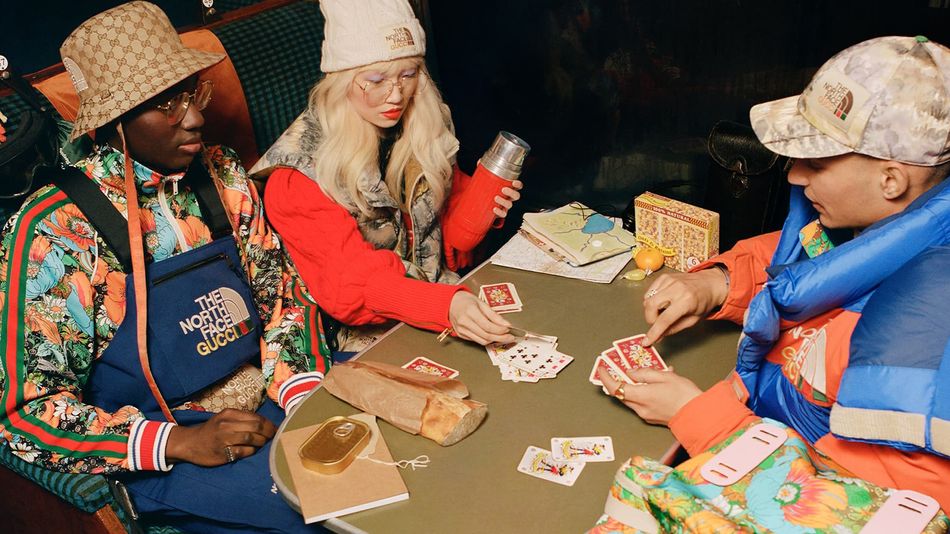 So why is a trainspotter involved? To put it simply, genius marketing. For a collection designed around exploration, travel and the great outdoors, who better to be at the forefront than the world famous trainspotter. Francis promotes to a whole new up and coming audience being a sensation on such a new platform and especially being so beloved by all. Bourgeois is the perfect fit for promoting the cool brand's drop by adding a modern twist to their well established heritage.
The North Face X Gucci collab is one I didn't even know I needed but one I now don't know how to live without.

RACHEL GREEN: A FASHION ICON
After rewatching the whole FRIENDS franchise for the billionth time, I have once again fallen in love with the 90s fashion icon that is Rachel Green. From super cute mini skirts to oversized overalls, throughout the whole franchise she has influenced trends in fashion. Her effortless style is something I have always envied, so I thought we'd take a deep dive into some of my favourite Rachel Green looks.
The One With The Football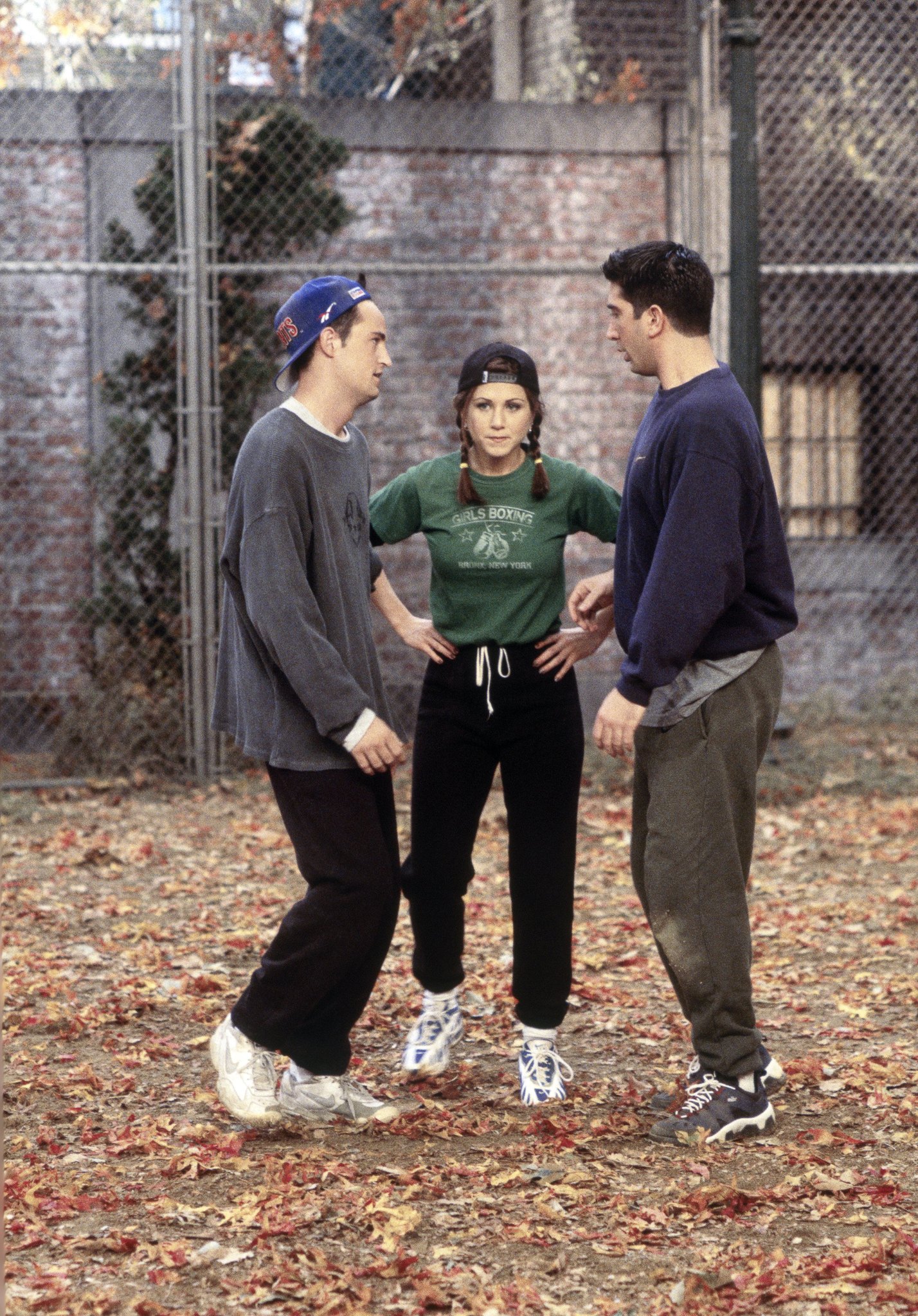 This look will always have a special place in my heart. From the Thanksgiving episode, this is a rare time we see Ms Green wearing sports gear and she even makes sweats look good. The backwards cap is a great way to accessorise on a bad hair day and this a great look for those super casual days.
The One Where The Monkey Gets Away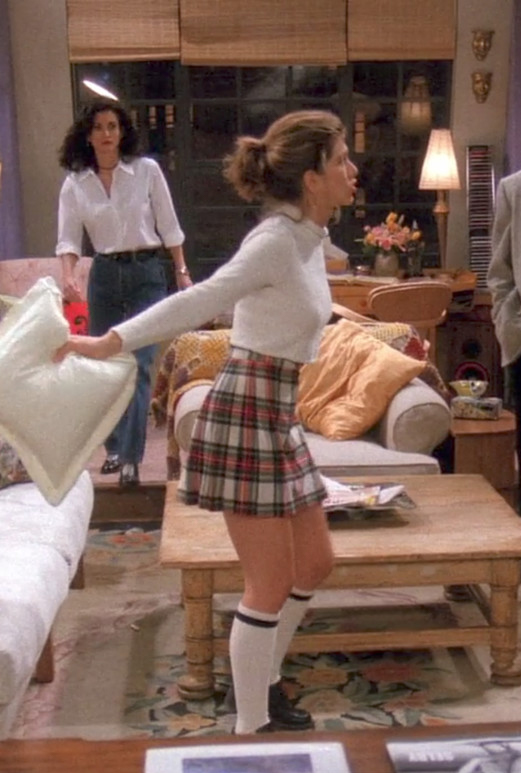 This outfit is iconic early seasons Rachel. The checkered mini and roll neck jumper is a look I often still emulate to this day as it's perfect for early Autumn and late Spring. Pairing with knee high socks gives the perfect hint of middle school vibes and is a cute way of layering up for those chillier days.
The One Where Heckles Dies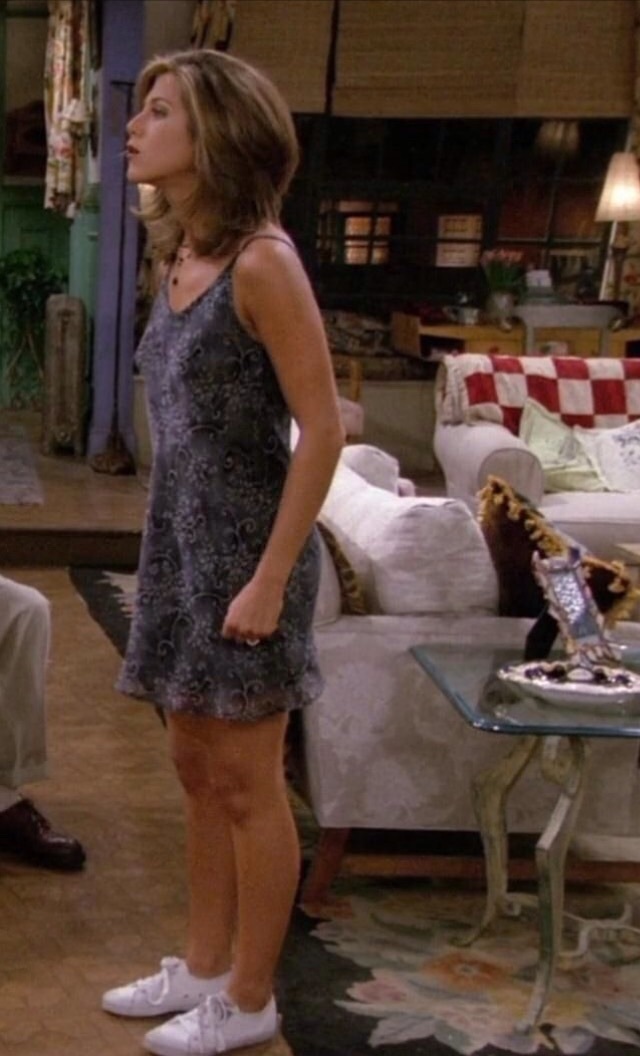 This look is my number one summer go-to. The cool airy slip dress is simple yet sleek, giving you room to move whilst still looking chic. The addition of chunky white plimsolls perfectly tones down this ensemble to make it more casual. You could also layer it up with tights or a tee underneath to take this outfit from summer all the way through the seasons.
The One Where Rachel Finds Out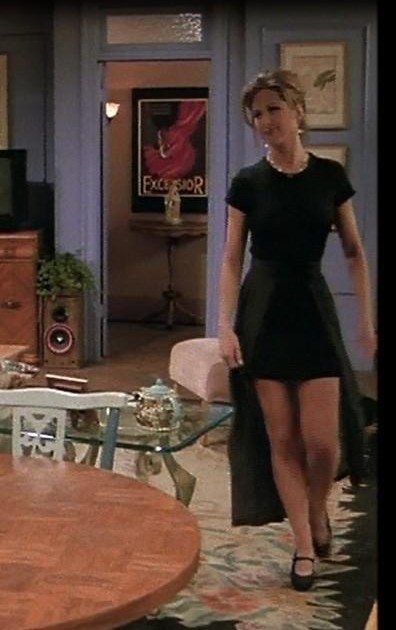 As a kid, this outfit was one I could never quite get my head around. But once I hit my 20s, it became one of my favourites. This outfit is one of the peak moments that shows that Rachel Green is truly the fashion Queen of the FRIENDS gang. Her cape-esque skirt alongside a skin tight t-shirt dress in this muted colour palette is the epitome of chic and the rough-and-ready claw clip hair gives the perfect touch of 90s.
The One With Rachel's Assistant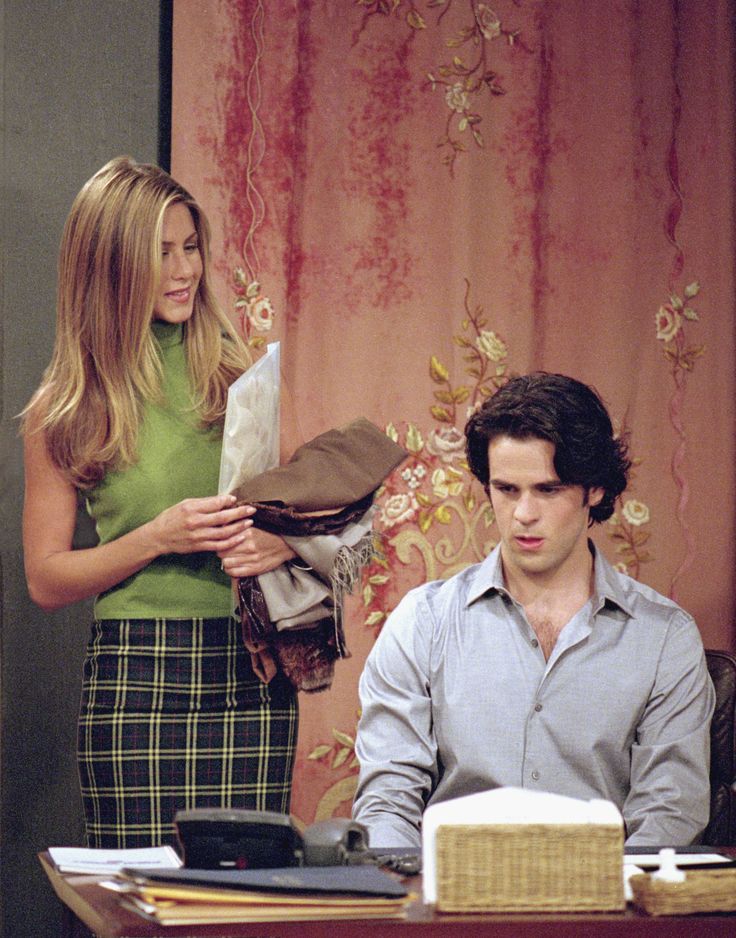 Rachel is forever known for her early seasons casual wear but we shouldn't sleep on her later seasons. Her Ralph Lauren office wear is so legendary she even got a collection made after her. This fit is optimal workwear, the flattering pencil skirt combined with a sleeveless roll neck makes for a smart fashion forward outfit. Plus the use of the checkered skirt is reminiscent of signature early years Green.


The One With The Fake Monica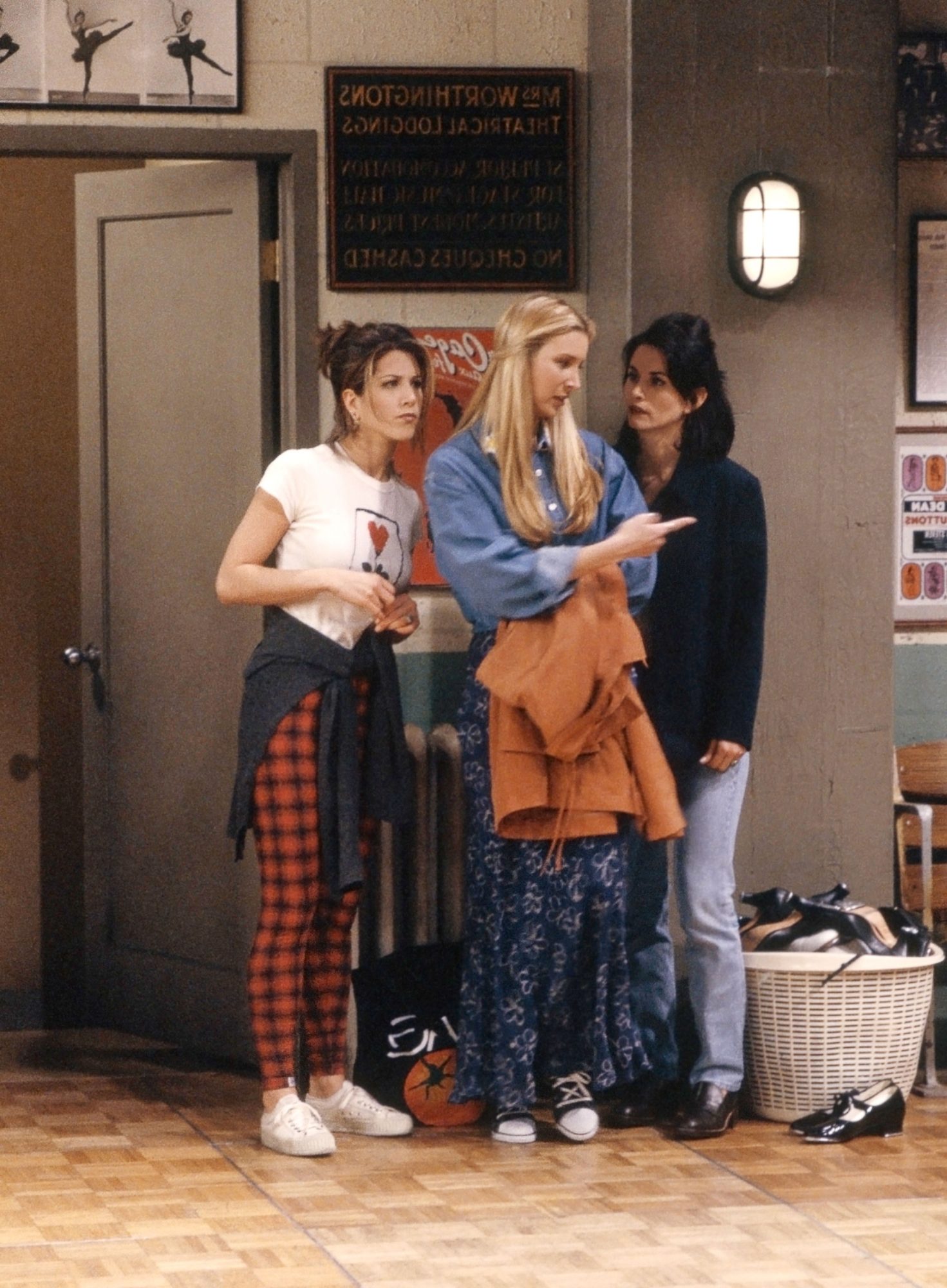 I just DIE for this outfit. Rachel is well known for her use of graphic tees, which for obvious reasons, we are a big fan of. But the twist from a checkered skirt to
checkered pants
is what makes this outfit a firm favourite of ours. The clash of graphics and patterns makes the use of a tee even more fun while keeping it pleasing to the eye.
The One With the Thumb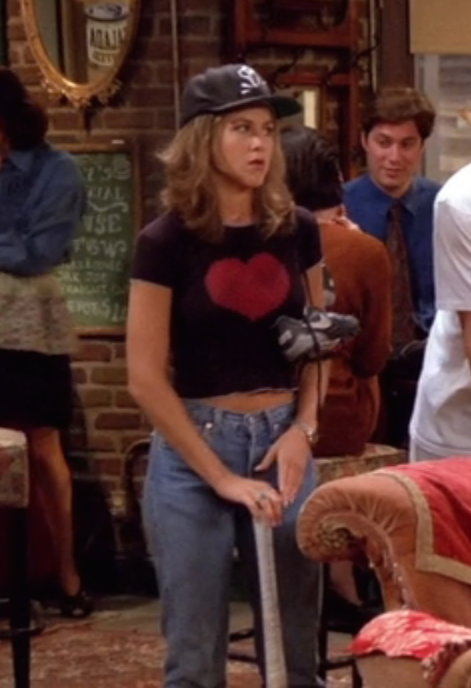 How could we talk about a 90s fashion icon without talking about Mom jeans? Nobody does it better than Rach, cool and casual as always pairing Mom jeans with a variety of
basic graphic tees
. Probably one of the easiest looks to copy if wanting to take a piece of the Ms Green style.

The One With The Birth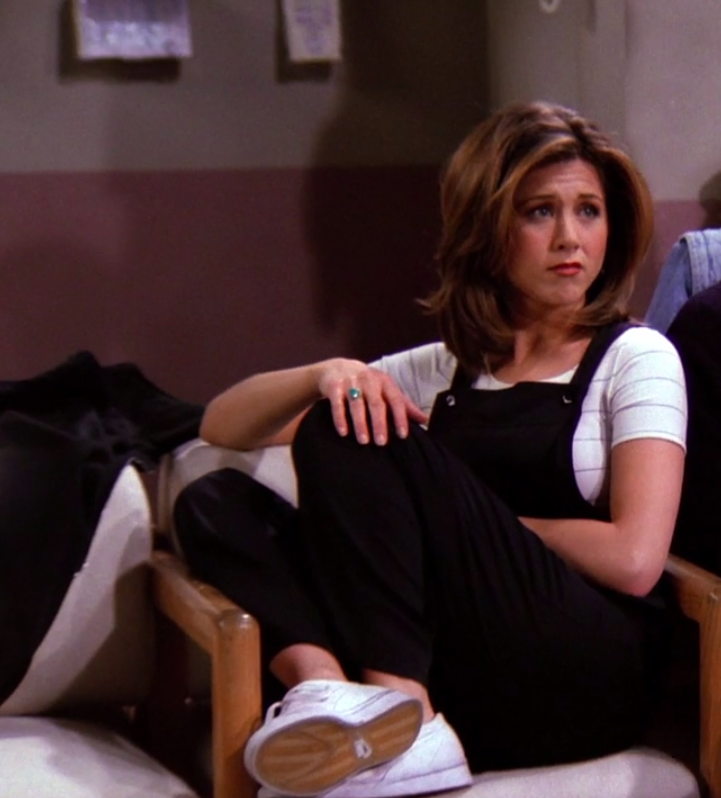 Cute, cute, CUTE. Dungarees are always a winner in my eyes and Green wears quite a few during her time on the show. Each time she wears them it looks effortlessly cool with a skimpy tee underneath. Plus if you have a pair yourself, it's one say look to incorporate into your weekly wardrobe.


It's safe to say the Rachel Green style is a great one and she is still continuosly influencing our wardrobes 20 odd years later. Simplistic yet cool, it is easy to add pieces from her wardrobe to your own.

Which fashion icon do you want to see next? Head to our IG to let us know.


Y2K FASHION: THE RISE, FALL AND RESSURECTION
I think one of the most mind blowing fashion trends I've lived through so far is the rise, fall and resurrection of Y2K fashion. With Gen Z now paving the way of what is cool and trendy, my mid 2000s cast offs have become more chic than me. I certainly didn't think I'd see my clothing go full circle by the ripe old age of 26 yet here we are. I didn't even like the clothes at the time so it's incredibly painful to see it all come back around to haunt me. It's even more agonising knowing that my very own OG Y2K items are probably sat in a landfill somewhere and I am once again forking out to keep on trend. I mean it wasn't all bad. I do always remember being so jealous of my sister as she stored twice as many sweets as me in her combat trouser pockets as a child.
So what's made a surprising comeback?

Ugg Boots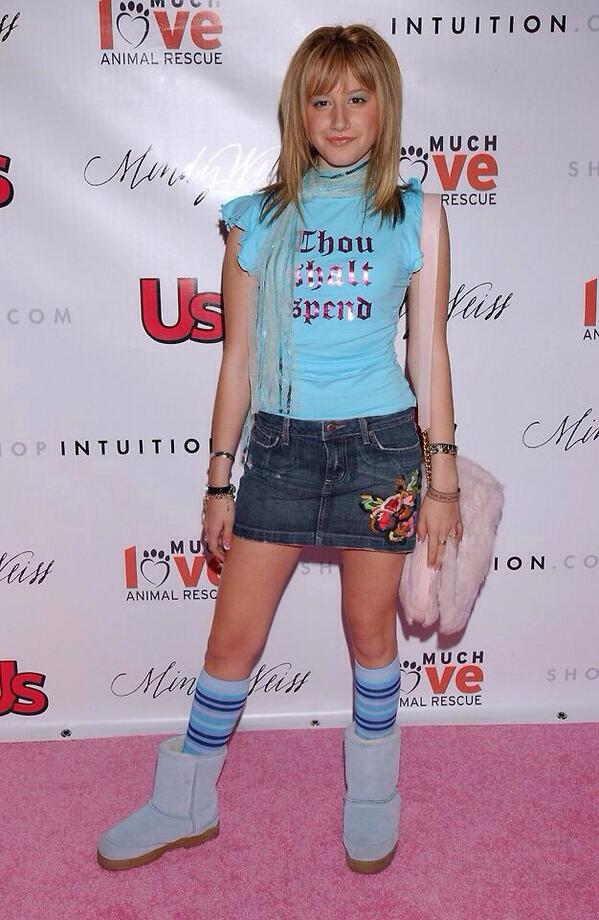 If you were a 90s or early 00s kid, you'll remember the jealousy you felt when one of the popular girls came to non-uniform day in her real fleece-lined Ugg Boots whilst you were wearing your £10 knock offs that you had to beg your Mam for. You also won't forget the death gripping fear you felt when you went over on your ankle from the slippy un-supporting foam soles coming down the stairs. But most of all, you won't forget the devastation of getting caught in a storm and having to hair-dry the faux suede back to life while trying to save your feet from trench foot. I think I'll give this one a miss.

The Juicy Couture Tracksuit

Now this is one I can get on board with. Ever since reading '
The Glitter Plan
' a couple of years ago, which details the creation and development of the brand, I have deeply lusted after the famous velour tracksuit. First made iconic by Cali socialites like Paris Hilton, it always felt so unattainable yet unbelievably desirable. This was the first time that loungewear took the fashion world by storm and it seems to be sticking. Plus, you have to feel one, it is SUPER soft.

Platform Flip Flops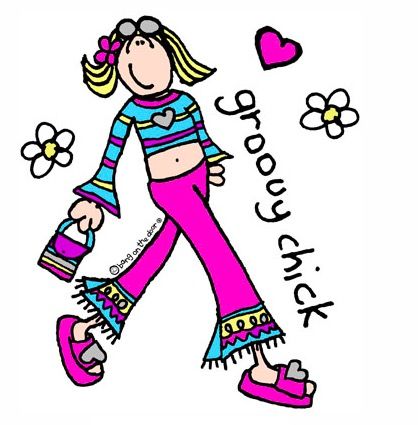 As a very petite female, I'm always going to be a huge fan of anything platform. Added height plus added style? I'm all in. To me, the platform flip flop will always be the epitome of not only Y2K fashion but the epitome of dangerous footwear. Although I wish I could get away with them, the risk of falling flat on my face is just too darn high. That being said, my childhood fashion icon was without a doubt Groovy Chick so to see her iconic flip flops be all the rage does truly tug at my heartstrings.
The Bandana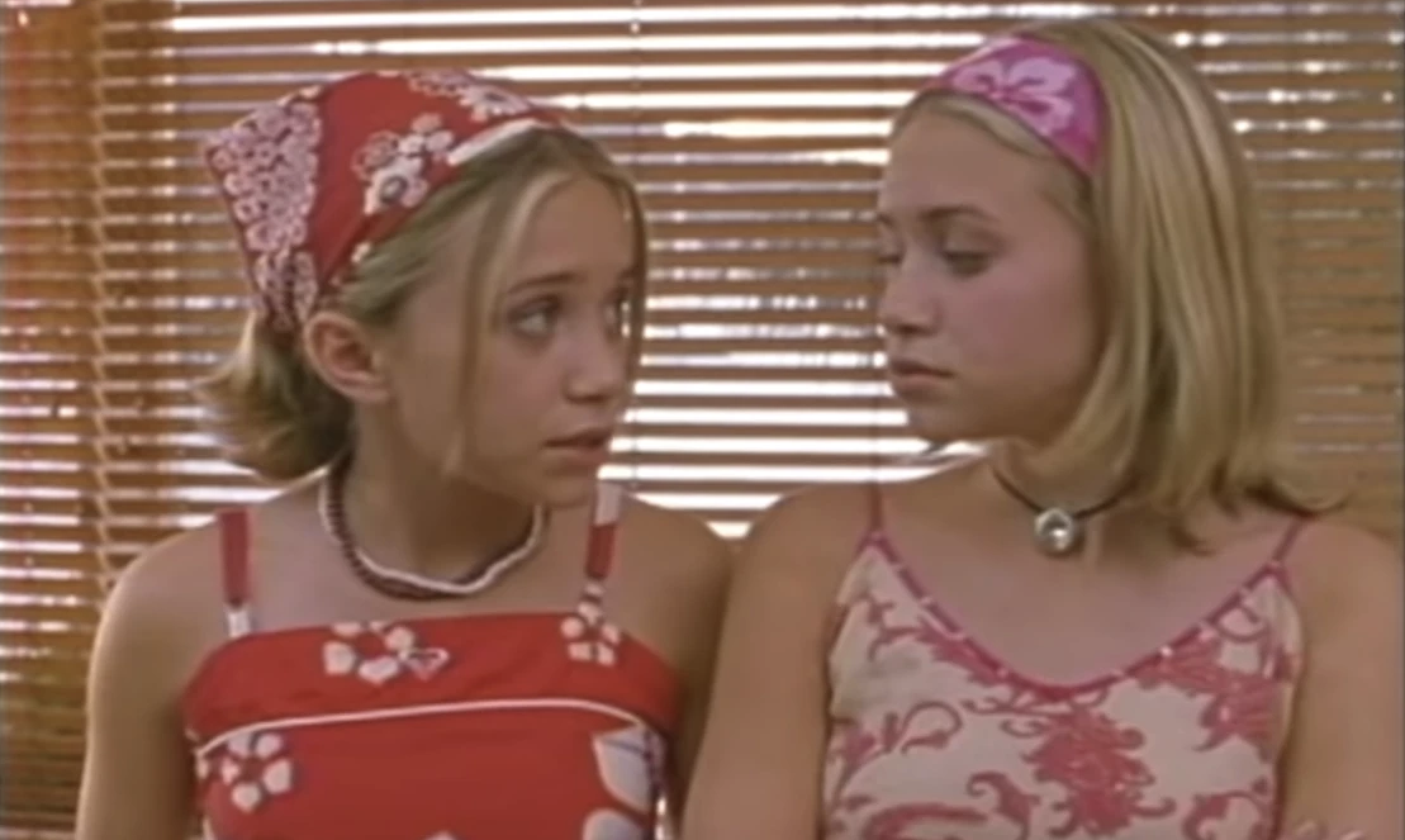 The day I saw Mary-Kate and Ashley rocking the iconic bandana with blown out bangs, I just knew they would forever be style icons. And just like them, the bandana itself has become iconic. The mega cute hair piece tucks all those flyaways in and adds the 2000s vibes to just about any outfit for just a tiny price tag. Plus, hiding my greasy, unwashed hair with a fashionable accessory is always a winner in my eyes.
Faux Fur Trim Jacket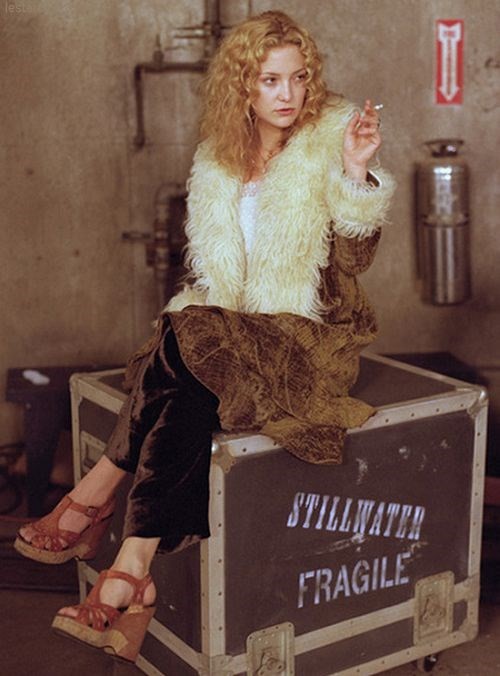 This iconic Y2K coat rose to fame in the movie 'Almost Famous' (ironic I know). Although set in the 1970s and the coat being created to represent the hippie chic of that era, the coat became a popular piece after the film's release in 2000. For me, it makes me reminiscint of sitting on my Auntie's lap and twiddling the faux fur through my fingers. Comforting, yes, but my next choice in fashion, I'm not so sure.
But how long is the lifespan of Y2K 2.0?
Since to me, 2006 was just the click of a bedazzled blackberry away (RIP), I am still so shocked to see this trend come back around. But was this a particularly quick fashion turnaround or am I just old? The reintroduction of Y2K fashion does make me wonder if the rapid progression of trends is actually a result of fast fashion. Being able to mass produce garments so cheaply means trends can be whipped through at a much more rapid rate. When other eras fashion has come back around it has been heavily influenced by vintage garments but soon will our cast offs even last to become vintage? The fast fashion market promotes quick turnover and production over lasting quality so what products will even be around to resurect the next trend?
I'm finally learning from experience that fashion truly does comeback around so I won't be making the same throw away mistakes I did last time.

Until next time, skinny jeans.


MOLLY MAE HAGUE VS THE POOR

You'd have to be living under a rock these past few days to have not caught wind of the latest Molly Mae drama. After becoming a rising star through reality TV to using her platform to become Creative Director of fast fashion brand 'Pretty Little Thing', Molly Mae has become a well known public figure. This has given her a voice that reaches pretty darn wide for a 22 year old.

It's not news that influencers are known for stirring up controversy but this one in particularly seems to have taken the country by storm. So if you're unfamiliar, lemme catch you up. Molly Mae Hague (yes her off of Love Island) has went viral around some controversial comments she made on the 'Diary of a CEO' podcast. With phrases such as 'we all have the same 24 hours in a day (as Beyonce)', 'if you want something enough you can achieve it' and a total disregard for social inequalities direct impact on financial success.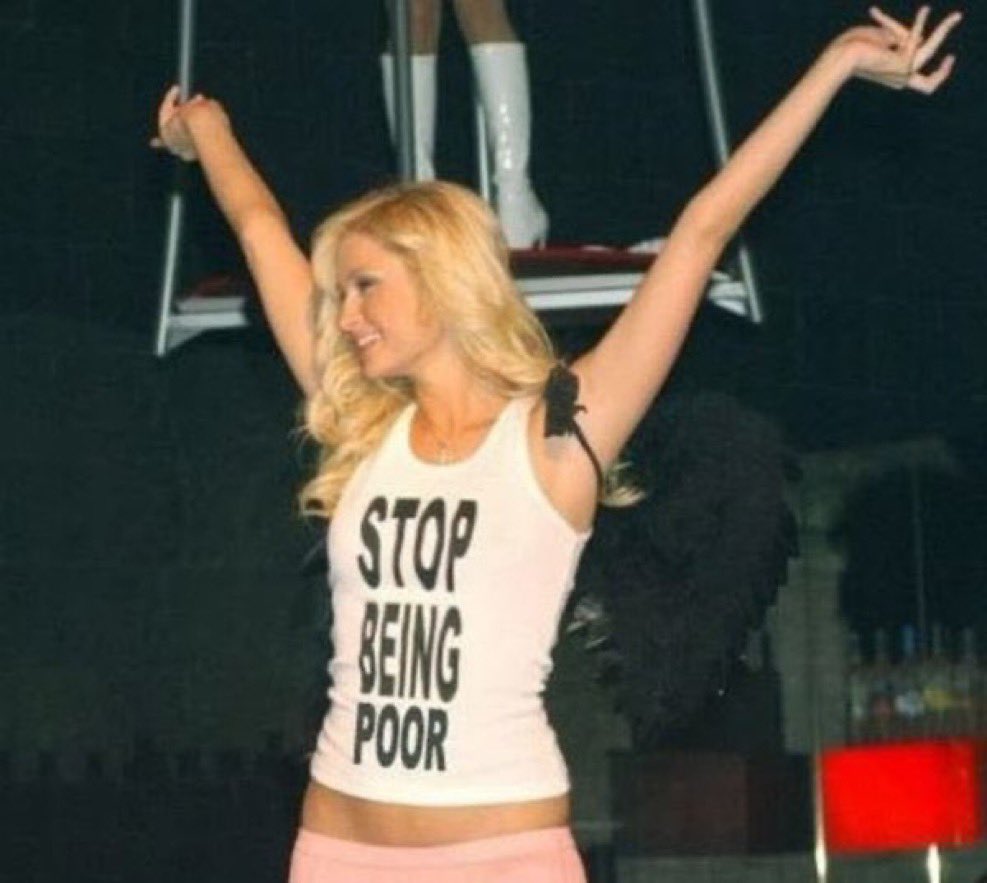 Now there's quite a few reasons this has caused a stir. First of all, Molly Mae's apparent rags to riches story has come under fire. After she claims her success is purely down to strategy and relentless grind, her audience have started to pick apart her whole career. Having gotten her start from reality TV on the popular show Love Island, her fans are asking; did she actually work incredibly hard or has her so called pretty privilege and ITV2 stint been the biggest contributor? I don't think there's any doubt that, MMH is a success story. However, the lack of acknowledgement for the biggest step up on the ladder she received certainly has people rattled. Now, that's not to say Hague totally ignored her time in the villa. Whilst acknowledging that this did help, she implied that she didn't require it to be successful. I'll pause while you take in that delusion. Having had an influencer career prior to her TV trip in the sun, she seems to think that with continuing her self pro-claimed hard work she would have made it anyway and I guess thankfully for her, we'll never truly know.
This has now led to the big question; is being an influencer actually hard work? As a woman who has had her fair share of minimum wage jobs and a stint in the NHS, I'm well aware of what hard work can entail. Taking pictures and free gifts isn't quite the experience I had (to say the least). Mopping dirty floors and being spoken to like trash is more on the money (of which I had none on my p*ss poor wage). But, is that to say being an influencer is easy? Not at all. An extensive knowledge of marketing, personal branding and a round the clock work schedule isn't what I'd call easy and if you make it look that way, it's even more impressive. But that hasn't stopped people being filled with rage at the very idea that influencing is a hard job. Do I think it's an easy job? No. Do I think it is a very fun and privileged job? Most definitely.
The next line of fire digs even deeper. Yes, this is going exactly the way you think…Molly Mae is reminiscent of Thatcher. Wait, what? Yes you read that right. After not only declaring how hard she worked, she then went on to say 'we all have the same 24 hours in the day'. This shaming of us mere mortals for not achieving the same dizzy heights certainly gives off big Maggie vibes. So, what is really wrong with this statement? It is true that we all get 24 hours a day but we certainly don't all have the same resources, opportunities or financial security. As one TikToker put it, we are all running the same race but some of us have more hurdles. In fact, some have way more hurdles. You could be sat thinking, well if only I worked hard, I'd be a millionaire wearing Cartier (that bracelet was ugly, there I said it). It's just a fact of life that no matter how much effort you put into life you aren't always going to get the same results and perpetuating such a rhetoric, in particular to such a young audience, is dangerous. It's hard enough being a twenty something year old woman without the added pressure to become a self made millionaire or be thought of as a flop. Had MMH grown up on a council estate and had to choose between heating or food this might have been a different tale. But luckily for her, she didn't. The downside to that is a totally ignorant and tone deaf outlook on social inequality and the restrictions it can put on a persons future successes.
The real kicker is that there are thousands of fashion graduates who have dedicated their lives to their craft, even, dare I say, worked hard. So, who is Creative Director of one of the UK's biggest fast fashion brands? You wouldn't be shamed for thinking it is one of those grads but you would unfortunately be wrong. It is of course Molly Mae herself! With no qualifications, no education and no experience in the field. Bet you're glad you went to Uni eh girls!? And signed up for that brutal unpaid internship? Fashion is a notoriously difficult field to work in let alone get experience so to hold such a coveted position really is a kick in the teeth for those who have paid their dues. Now that doesn't mean Molly Mae shouldn't get such an opportunity and it just makes marketing sense for the brand BUT not acknowledging this and instead creating a narrative around 'hard work' is just pure false hood.
And yet the hashtag girl boss energy doesn't end there. After being interviewed about her successful journey to becoming a millionaire, it has come out that the very company that is making her millions pays garment workers just £3.50 an hour. Now it all becomes clear. Success is not down to hard work. It's not even down to being on reality TV. It's down to being unethical. It's down to exploitation. It's down to unfair treatment and further driving the wealth gap. Her quote of 'I'll go to any lengths' for success makes total sense now.
But as always, there is still the other side of the coin. Would this even be a discussion if this was said by a man? It's no secret that the media are sexist and tend to go harder on women. The host of 'Diary of a CEO' even said himself that men have said eerily similar things on the show and not had any backlash whatsoever. Has this story picked up so much because it was said by a woman? Or is it because it was said be an influencer which society does not deem a worthy job? Or is the pure hypocrisy of gaining wealth through exploitation and chalking it up to hard work? This is such a multifaceted drama, I can't keep up. (It's the drama Mick, I just love it.)
It isn't all bad though, we have had the pleasure of some incredible memes, likes of which haven't been seen Chanel the African Grey got out.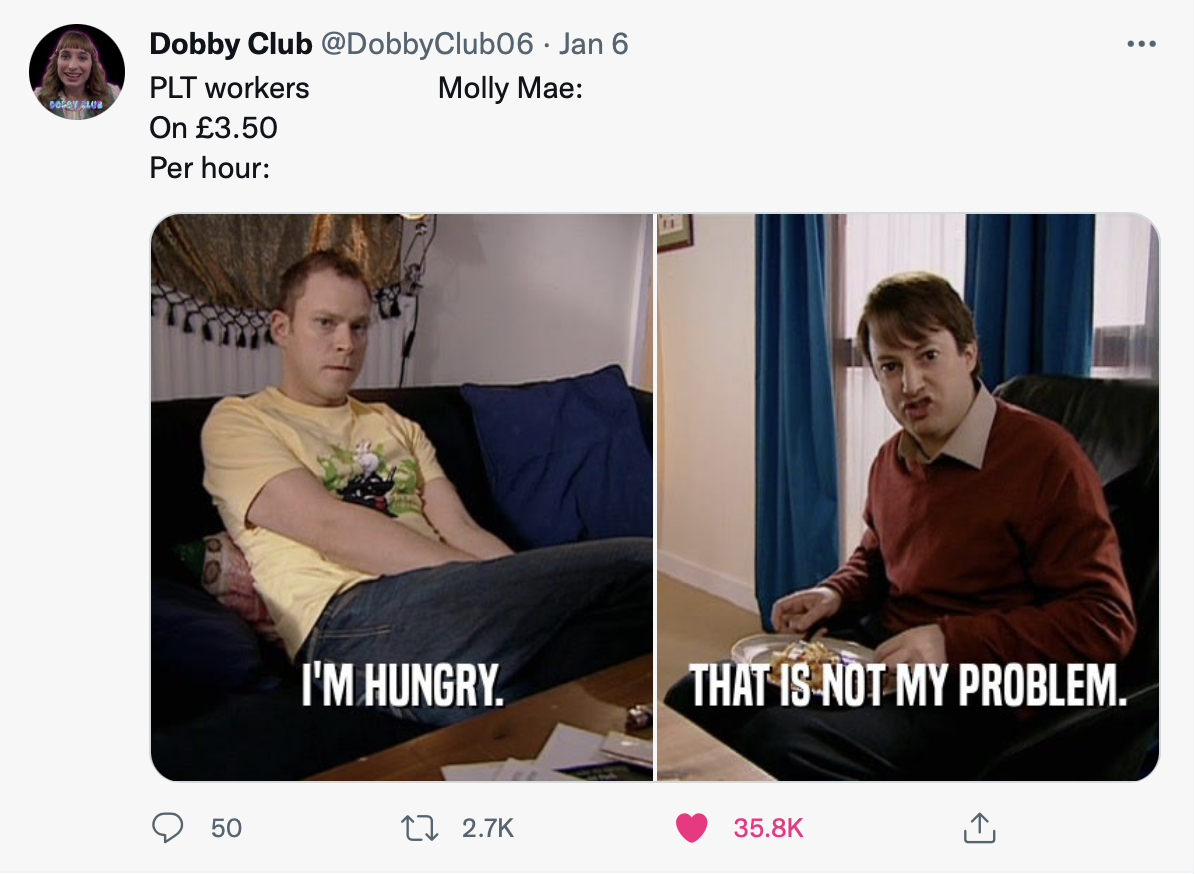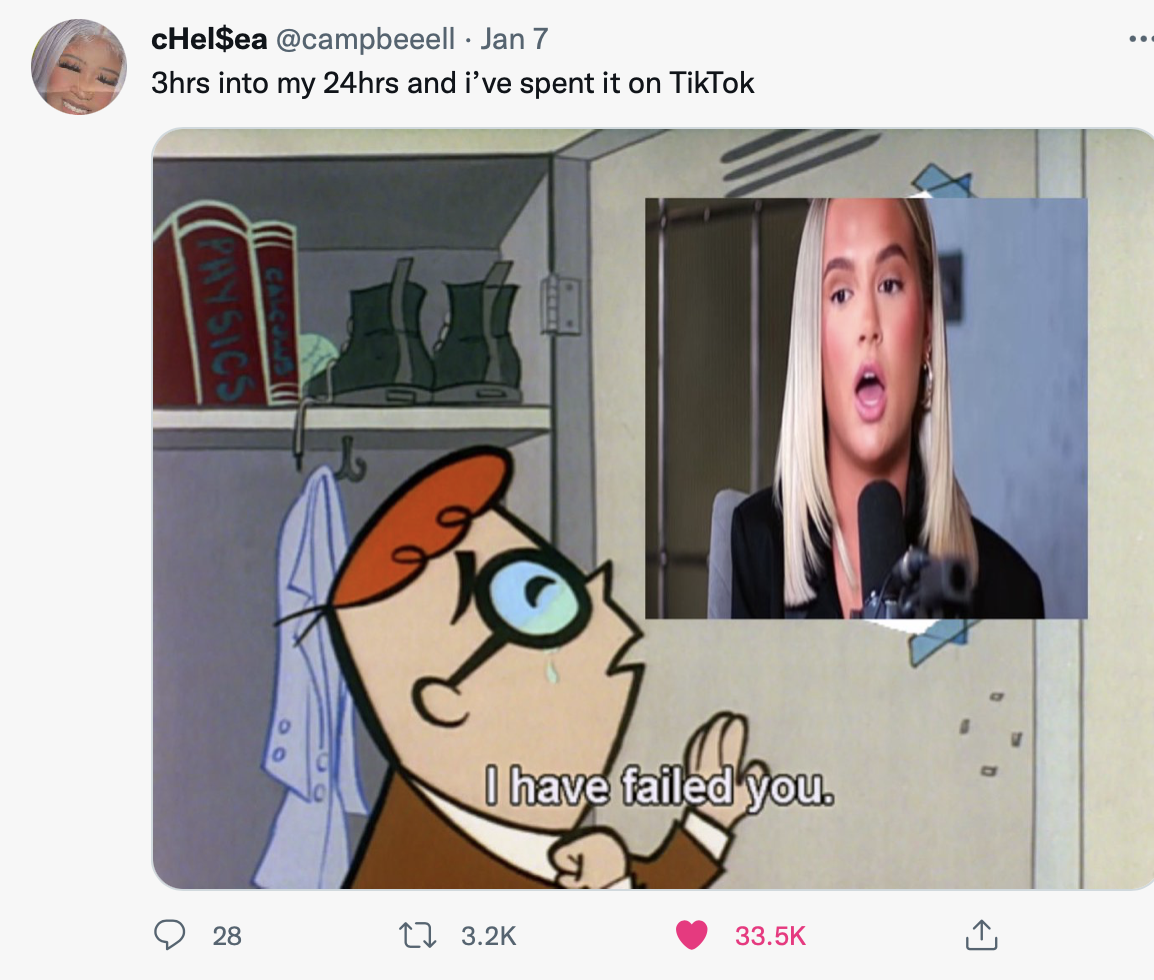 This story strongly highlights the contrast between the rich and poor in the UK and how a narrative of hard work can be quickly twisted against the poor. Whether you agree with her or not, she's certainly got people talking about inequality, even if for the wrong reasons.


I just can't wait for the apology video.


HOME SWEET HOME


If you follow our IG you'll have noticed that I've been a little quiet this week as I took a well needed vacay. Since starting this business I've been very reluctant to travel in case I missed a precious order or I drowned in my workload upon my return. (Of course it was sods law that I got an order the second my bum landed in NYC). But now I'm back in the UK and my hopes and dreams haven't been completely destroyed so I guess I might be more keen on taking a holiday in the future.
So how was visiting the fashion capital of the world with my best friends? Just dreamy. From panic buying in the high street stores for the surprisingly warm weather we in no way packed for, to pransing round the garment district pretending we were contestants in
Project Runway,
I couldn't get enough.
But now it's back to reality and some oh-so-sweet home comforts. The grind is back on starting next week with our week long pop up shop over at Metrocentre Gateshead followed by a Christmas market at Quorum Business Park on the 8th December.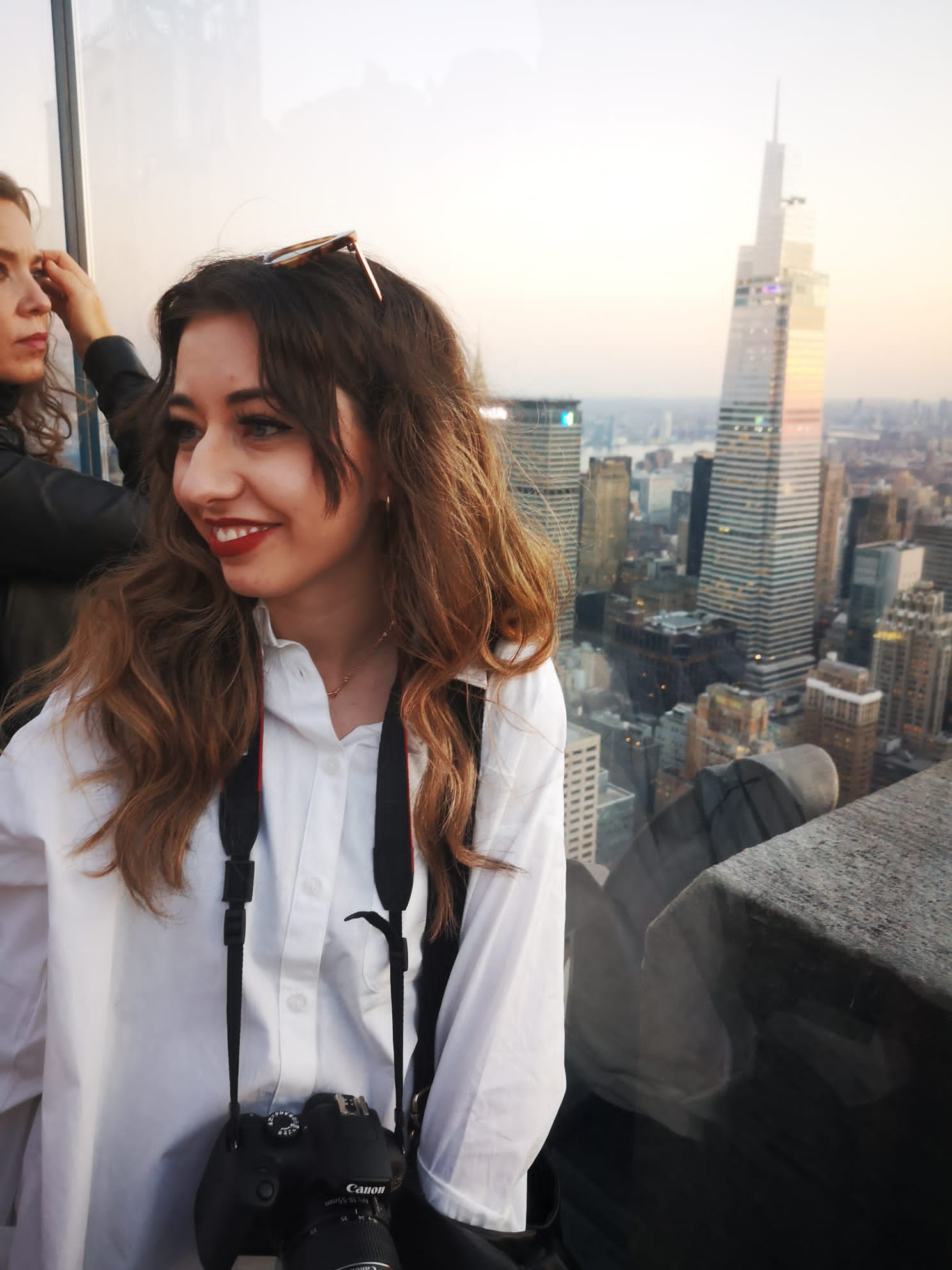 Until next time New york x

THRIVE STREET X CATCALL


You'll be able to catch us in person at our latest pop up shop over at Gateshead Metrocentre between 22nd-28th November. We'll be joined by some phenomenal local brands throughout the month of November, just in time for you to pick up some Christmas goodies.
For more information and a sneak peak of the brands just click
here.

SMART WORKS X CATCALL
This week we joined a favourite of ours for a fundraising event at Newcastle University's Student Union. Getting back into the swing of the pop ups hasn't been easy but now we're back we don't want to stop...
So who exactly were we fundraising for? If you've been following CATCALL for some time now you'd know that we are big fans of Smart Works and exceptionally lucky to have a branch right here in Newcastle. Smart Works have one overarching goal, to help women get into employment. Now I know what you're thinking, how exactly do they do that? Simple, by giving women the confidence to nail their job interview. We all know how it feels, going into an interview feeling nervous, unprepared and just all round lacking in self esteem. But this all goes away after an appointment with Smart Works. Firstly, any woman who comes for an appointment will get a hand selected interview outfit and styling session to help them look and feel at their best. Following this, they are then able to partake in a one to one coaching session from business professionals who can help them see their own strengths and build their confidence not only in themselves but also the interview process. However, as this charity relies on donations of clothes that fit and suit such a variety of women, storage space is limited. What better way to solve this issue than a big ol' sale of stock to increase storage space and raise money to help run this fantastic service.
The two day sales event kicked off with an exclusive ticketed event for all those keen beans wanting to get their hands on the discount goods before anyone else. Endless rails of clothing were out ready as the shoppers came rambling through with a complimentary glass of Prosecco in hand. Everyone from fashion lovers to Smart Works patrons were grabbing as many bargains as they could. Not only was the shopping experience available but also a fashion show from Newcastle University's Fashion Society. This society gives Newcastle University students the opportunity to collaborate on fashion based projects from pattern making to modelling and everything in between. In this instance, they curated a fashion show which demonstrated the stylish and professional outfits that they provide for their service users.
So after a fun filled evening, we packed up our boxes and headed to the second day of the 'Sustainable Fashion Sale' all in aid of Smart Works with 20% of all our sales going straight to the charity. Hanging the classic pink fairy lights above our table we were so excited for the students to hit our stall and they didn't disappoint. Not only did we have our classic tees and accessories but we also managed to showcase our brand new stock that had never been seen before. As well as our stall, the lovely Melanie Kyles brought her beautiful intricate embroidery work and offering a hand monogrammed service for personalised treats. We even nabbed ourselves an enchanting yet fierce headband that we just can't get enough of.
Overall, across the two days Smart Works managed to raise a whopping £6,500 to help women get into work. This will help them keep up their phenomenal success rate of over 1 in 2 women getting the job. Thank you to Nathalie and Helen for not only running a great service but also for inviting us to take part as well as every staff member, volunteer and customer. It's you guys that keep us all doing what we love.
@smartworksncl
www.smartworks.org.uk
@melaniekyles
www.melaniekyles.co.uk
@nufashion_
www.nufashion.org
Want to write a blog post for us? Email
[email protected]
now
SISTER SHACK X CATCALL
Recently we joined the wonderful Sister Shack at Newcastle Student Union for our first market stall in MONTHS. Not only were we trying to get back into the swing of things but also trying to keep up with the immense competition from all the other fabulous female creators. I mean, I'd expect nothing less from a Sister Shack Market. And you know what they say, if you can't beat 'em, join 'em. So here's a little peak at some of our favourite stalls…
Good Strange Vibes

First up, Good Strange Vibes, a wonderful brand created by artist Louise Brown. Her fun and whimsical designs not only look great but also have a strong social message. Addressing important points from body positivity to period inequality, supporting such a brand will really make a difference in the world.
Check it out now at
www.goodstrangevibes.com
Skullbag
Finally a brand that tends to the inner whimsy goth that hides in us all. From linocut brooches to handmade feather jewellery, this unique gift shop has trinkets for everyone. Of course we couldn't help ourselves when we came across this little piggy brooch and had to invest.
Check it out now at www.skullbag.com
Madelinebaughartist
I was shocked to find out that this seller was attending their first ever market and I think it is safe to say it will be the first of many. A simple design, terrarium plants in a variety of crystal clear glassware, making a must have for a number of shoppers (including myself!). Who knew putting a plant inside an old school child's milk bottle made it so irresistable?
Check out their IG @Madelinebaughartist
Slutmouth
Raunchy, outrageous and simply brilliant. Slutmouth is a brand designed to reject the taboos around the body, sexuality and sex. Modern society is still shy when it comes to issues around nudity, sex and open sexuality. However, Slutmouth is here to expose this and show the young adults of today that there is nothing to be ashamed of. We STAN (whatever that means).
Check them out at www.slutmouth.co.uk
Just Harry
As the fear of climate change becomes increasingly real, the need for sustainable fashion is evermore desperate. In comes Just Harry. A brand that recycles denim into new wonderful fashion pieces that not only look great but also are helping reduce waste in the fashion industry. From dungarees to custom made t shirts with personalised denim appliqués, they've got everything to feed your need for denim.
Check them out at asos.mp/just-harry
Mojo Lingerie
And last but certainly not least, Mojo Lingerie. A company that creates made to measure lingerie for everybody. And by everybody, they mean EVERY BODY. No matter your size or shape, they will create beautiful lingerie that is the perfect fit made specifically for you. As a woman who throws a fit at the thought of wearing an underwire bra, the elegant lace designs by Mojo Lingerie really are a dream come true.
Check them out at www.mojolingerie.co.uk
This is just a tiny sample of the amazing people who showcased at the Sister Shack Home From Home Market, check the rest out over at @sister.shack
ONE NIGHT ONLY: AN ODE TO THE GIRL'S BATHROOM
The standard night out. A pastime with a startling propensity to be more or less exactly the same every time you choose to partake. It is as if there is a checklist to be followed, certain rules to abide by.
Outfit stresses. The friend who is always, without fail, so inordinately late that you begin to question why they bother coming at all. Pre-drinks. The last minute panic prompted by the arrival of a taxi, which still manages to be a surprise; no matter how much notice you were given. The Houdini friend who will disappear, audaciously returning an hour or so later; in the possession of a drink or three and without any awareness of how long they've been gone.
There is, however, a shining light in this alcohol-fuelled routine. Something that is different every time. Something that adds a little light and excitement to what might otherwise be a distinctly predictable night. Something to talk about over the meal you stubbornly profess is breakfast, despite the fact that it is actually two in the afternoon, and your heavy heads can barely lift from resting position on dusty café tables. This beacon of hope? The saviour of a slightly dull evening?
Drunk Friends.
If you are lucky enough to have experienced this phenomenon, you will be acutely aware of how truly excellent drunk friends can be. For one night, at least, they are the greatest people you've ever met. Drunk friends are interesting. Drunk friends are exciting. Drunk friends are the people you decide you absolutely one hundred percent will keep in touch with, because you all decided to go to that festival together in August, and you can't miss that. Drunk friends are the ones you will likely never hear from again.
Of course, if you are proficient in your inebriated networking, you will be aware that are different categories in which each of these drunk friends fall into. There are the social sorcerers, who manage to capture the attention of everyone in the smoking area, beguiling their way through their evening with unbelievable stories, and unending levels of charm. There's the lone jester, who appears as if from nowhere to enthusiastically provide an evening's entertainment, and who will likely get kicked out of the takeaway a few hours later, after jumping over the counter and asking for your order. Perhaps the greatest of all drunk friends, however, are those who reside in the girl's bathroom.
This very particular category of drunk friend is home to the true queens of the drunken friend world. They are among the most hilarious, kind and supportive people you will ever meet. Every night, around eleven pm, the dingy, dusty bathrooms in bars and clubs up and down the country transform. No longer places of horror and disgust, they become magical, safe spaces, ruled by ethereal, if not slightly tipsy creatures - creatures known affectionately as Girl's Bathroom Friends.
The girl's bathroom on a night out is a truly magical place, and it is the tireless work of the Girl's Bathroom Friends that make it this way. Of course, there are still templates to go by. The returning characters among an ever-changing cast. There will almost always be someone crying over a boy, and another trying to comfort her. There's always someone who will promise to be your Instagram photographer, and will go as far as to stand on a sink in an effort to get you at just the right angle. And there is, every night, without fail, someone whose true calling in life is, it would seem, an ability to make you believe that you really do look 'absolutely amaaaaazing!' To put it simply, if you are seeking some support, a safe space, a pep talk, or just someone to ask about how much a nipple piercing actually hurts; the girl's bathroom is the place to be.
There's a lot we can learn from the girl's bathroom. It appears to be a place entirely devoid of negativity or competition. If someone looks great, you tell them. If someone is in distress, you do your utmost to comfort them. If someone is in need of something that you possess, you share it with them - even if it is only a lipstick. Girl's Bathroom Friends are the best simply because they represent that which we all ardently desire from those around us. To feel supported, safe, and inspired is an incredibly valuable commodity. One that, try as we might, cannot be bought, sold, or magically conjured up. It is something built on an alliance of our own behaviour, and that of those around us; an agreement to perpetuate confidence, kindness, and a desire to make others feel as great as we'd like to. Scratch my back and I'll scratch yours. That sort of thing.
There's also value in openness. The deep discussions about life, love, and everything in-between. The stories shared with people you've just met, merely because you rightly perceive that your own experience is, in some way at least, relevant to that which your new friend is currently crying about. There's the total, unabashed trust from the girl who showed you the results of her tummy tuck, just because you were curious. And there's the willingness of others to scrape you off the floor and welcome you into their girl gang when you're having a bad night.
There's truly something to be gained from losing some of our cynicism, from dropping a sometimes internalised disregard for those around us. There is incomparable benefit to be found in a willingness to embrace a little vulnerability, and to pioneer compassion. Imagine if the whole world followed the ethos of the Girl's Bathroom Friend. Now, wouldn't that be great?

Written by Steph Hebdon @stephhebdon
CATCALL X SMART WORKS
This week marked the start of a beautiful working relationship and one we could have previously only dreamed of. Just over a month ago, a representative of Smart Works Newcastle got in touch with us and asked if we would like to attend their upcoming event and we couldn't have been happier. And last Friday that event finally arrived. For those of you who aren't aware of the wonderful work that Smart Works does then here is your chance to find out. With 7 branches (and counting) across the UK, this charity was started by women for women. Their aim? To get more women into employment. The debate of inequality in the workplace is nothing new to any of us but a charity designed to help women get their foot in the door certainly is.
So how do they go about achieving such a momentous goal? Well it all starts in branch. First off anyone identifying as a woman and has a guaranteed interview for a paid position is welcome to attend an appointment within their local Smart Works centre. However, this is not your stereotypical charity pity parade that many assume it to be. Instead you are greeted by Smart Works employees who provide a styling session for each client. Picking out different interview outfits to suit each lady individually and to give them the confidence they need to succeed at interview. Not only do get they get a personalised style experience but they also get to take a full outfit home with them including both shoes and accessories as well as a goodie bag of sanitary and hygiene products. Now for some women, this is an outfit to help them be more confident whilst entering their interview but for others, this may be the only interview outfit they own making it all the more crucial that Smart Works is available to help them. Following from this, they are able to be coached by professional women who have been on both sides of the interviewing experience, giving them hints and tips to secure the position they're after. For those who have been out of work for a while, this one to one coaching can really change a person's perception on the interview process and what it takes to succeed in getting the job.
Does it work? I hear you ask. Well with over 50% of the women attending their Smart Works appointments getting the job, it's pretty hard to argue that it doesn't. But with that being said, this charity could not be a success without public support. Donations of supplies, a helping hand in the office, monetary contributions. Whatever you can give could have a drastic change on another woman's life. For some a job is a way of supporting their family for others it can give a genuine sense of purpose in life which may not be possible without the help of Smart Works. Here at CATCALL we strongly believe in the power of fashion in building confidence and Smart Works does just that. Help support them in changing women's lives today.
For more information about Smart Works and local branches near you, visit their website at www.smartworks.org.uk
CATCALL X PICNIC
It's been another fun week here at CATCALL HQ. After what felt like a lifetime of waiting, CATCALL X PICNIC finally arrived. So on Friday night we packed up our Pop Up shop and headed down to Think Tank, Newcastle to showcase some of our brand new stuff. With the latest addition of badges and stickers, we couldn't wait to chuck our tat at anyone who would take it.
From Ormstons to Great Waves to Picnic, there was no way this line up was going to disappoint. Music lovers from across the region entwined in an embrace we couldn't have previously imagined, beautifully lit by incandescent neon. I mean, it was always going to be hard for us to contain our excitement. Not only did we party with our fave bands but we also showcased our brand new products. From tit tees to tote bags to badges and stickers, we got it all. And to round it all off? We even got to introduce card payments for all you lovely cash free people.
So what's coming up next for us? First we'll be hitting up the studio to take some pics of our brand new stock launching end of September. You may have seen some sneak peaks already but if not get ready for our first line of cute ass tote bags as well as more tees coming which are already in high demand. But somehow even more exciting than that we're braving the night bus to go cross country with our very first slot at Camden Market coming September 19th. We'll be bringing silver streamers and neon lights one hell of a way so if you're around pop down and see us, it would mean the world.
I hope London is ready for us (because we're certainly not).
CATCALL TURNS ONE MONTH OLD.
One month. A twelfth of a year. Thirty mere days. And yet here we still are. Although this may be a small milestone to most, it is one giant leap for Catcall kind. The final hoorah of our launch party was just the beginning of our hard work and unexpected tears. Whilst everyone drank beer and partied to our poorly put together playlist, we perched on an overused guitar amp to do the final part of the project. Click the detonator *cough* I mean launch button. And that was only the beginning.
Little did we know how much joy this small, badly thought out, project would bring. The sheer excitement brought from hand packing each order is not one we ever thought we would experience. Now one month on, we are expanding from our four original lines to a mighty eight, adding some cute AF tote bags to our ever-expanding collection. Not only has our beloved website brought us delight but we have also been able to bring our products to you in person. Unexpected to us, the popularity of our pop-up shops has given us the hunger to make Catcall a real success. So in that spirit we've now added a number of events from Newcastle to the big LDN where you can buy our products instantly.
Although this may not seem like much, this is only the beginning, so watch this space. And above everything thank you to each and every one of you for your support. It means more than you will ever know. I can't wait for this ride, who knows where we'll end up.
CATCALL WAS BORN.
From a twentysomethings bedroom daydream to a fully-fledged business prospect, Catcall Clothing evolved from a mere idea to what lies before you now. After months of planning, preparation, crying, swearing and hissy fits, the labour which was launch day arrived. Not only was this event ambitious but it was downright ludicrous. Launch a clothing brand with an event including a range of local musicians and a Pop-Up shop with LITERALLY no experience? Yeah, no problem mate. But then, in the midst, the so very dark and dank midst, out came Spotlight Music UK. Our saviour. Our shining light. Our damn good promoters.
After a hell of a lot of silver streamers and accidental balloon popping, Komparrison was the first to take the stage. And what a bloody beauty those girls are. Yeah, you heard that right, GIRLS. FEMALES. DAMN WOMEN. A bit of a foreign concept in the music industry apparently. Their acoustic tones and perfect harmonies filled our beautifully lit venue, giving a performance only two true friends can achieve. Next up, Human X. Paving the way to their own genre, they entwined electronica and indie into a twisted fantasy that couldn't have previously been imagined. The dark romanticist in us all fell in love under the fairy lights, with electro pop vibes that won't be quickly forgotten.
And finally, Deep.Sleep. Sometimes you have to give the lads a chance I suppose. As with every one of their headline shows, you can't help but get encapsulated in the boyish charms of those young men. Taking the opportunity to warm up for their highly anticipated Kendal Calling slot, they couldn't have rounded this phenomenal night off any better with their indie pop love songs. And with the that, down came the streamers, out came the beer and our launch was complete.
And as for us? Well, we're just glad we didn't throw up.
Promotion
Spotlight Music UK
Media
Ronan Bartley
James Oxbrough
Will Gorman
Acts
Komparrison
Human X
Deep.Sleep